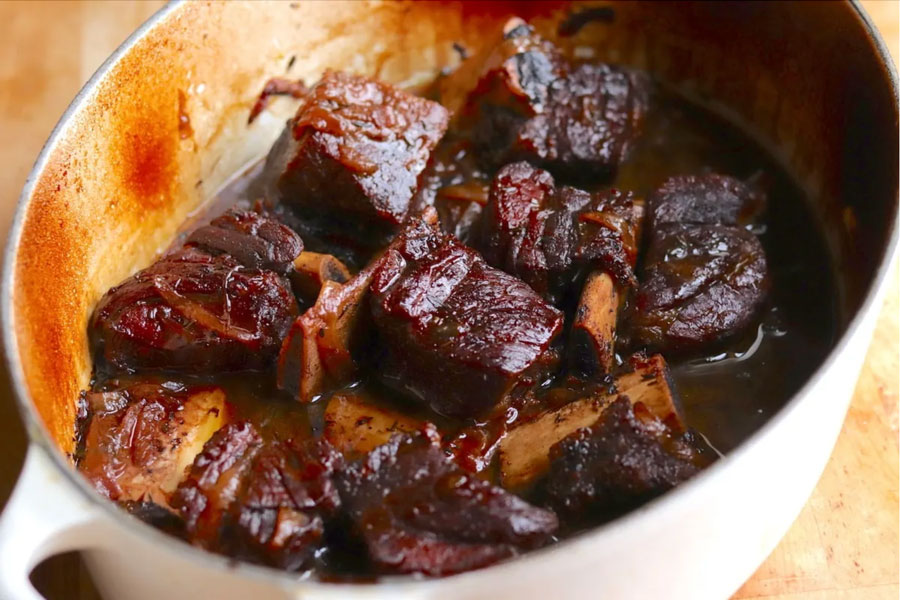 21 Jul

Buy Steaks Online and try a Simple Braised Short Rib at Chorizo De San Manuel!

While we love grilling in the summer as much as the next chef, the summer heat is overbearing in South Texas. You can still salivate over a good hearty meal with our beef short ribs! For the perfect summer dinner, consider braising short ribs in the oven! Our special thanks to the talented chef from The Hungry Hutch for this recipe.
Total Time
2 hours 30 minutes
Yields
4 servings
Ingredients
3 dried bay leaves
Kosher salt and black pepper
1 yellow onion, sliced
1 teaspoon dried thyme
1 quart unsalted or low-sodium beef stock
1 teaspoon to 1 tablespoon all-purpose flour
Vegetable oil, for searing (or other neutral oil)
2 pounds of Chorizo De San Manuel beef short ribs
Directions
Heat the oven to 350˚F.
Heat a thin layer of oil in a Dutch oven or other large oven-safe pot with a lid over medium-high heat.

 

Meanwhile, pat the short ribs dry with paper towels and season all over with salt and pepper.

 

Sear the short ribs (in batches if necessary) until browned all over, adding more oil as needed.
Transfer to a platter.
In the same pot, add the onion, thyme, and some salt and pepper (and more oil if the pot is dry), and cook, stirring occasionally, until the onions start to soften, a few minutes.

 

Sprinkle with the flour and cook for about 1 minute more while stirring.
Add the beef stock, bay leaves, and browned short ribs back to the pot, let come to a simmer, cover, and place in the oven until tender, about 2 hours.

 
Try Other Steaks Online
Our steaks are the perfect meal for your summer feasts. We sell other prime beef products:
Experiment More Summer Recipes
Now is the time to put your cooking skills to the test. Order steaks online, or our famous chorizo, and try the following summer dishes:
Buy Steaks Online
Summer is all for adventures and fun, not for slaving away over a stove. Visit us and order steaks online to purchase short ribs and any of our steaks. Send us a message if you have any questions about our online ordering. Tag us on Instagram and Facebook.