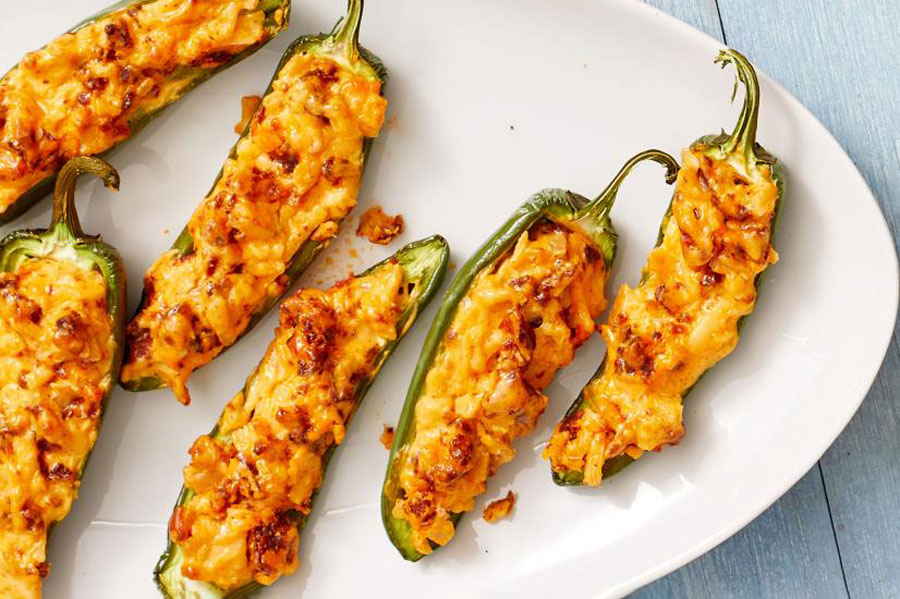 05 May Spice It Up with Smoked Gouda- Mexican Chorizo Jalapeño Poppers
Recipe and picture courtesy of Food Network.
Needs something to add a little kick to your tastebuds? Surprise your dinner guests with this spicy appetizer, featuring our pork chorizo, jalapeños, cheese, and a dab of hot sauce! Thank you to the talented chefs from the Food Network for this hot recipe.
Total Time
1 hour and 20 minutes
Yields
24 poppers
Ingredients
1 large egg, lightly beaten
1 tablespoon of hot sauce
3 tablespoons of sour cream
1/4 cup of finely chopped red onion
4 ounces of cream cheese, softened
Kosher salt and freshly ground pepper
8 ounces of smoked gouda cheese, shredded
12 large jalapeño peppers, halved lengthwise and seeded
2 links (about 8 ounces) of fresh Mexican chorizo, casings removed
Directions
Preheat the oven to 375 degrees Fahrenheit. 
Brown the chorizo in a skillet over medium-high heat for about 8 to 10 minutes. 
Remove with a slotted spoon to a large bowl. 
Add the gouda, cream cheese, sour cream, red onion, hot sauce, and salt and pepper to taste. 
Mix in the egg.
Press the mixture into the jalapeños and arrange on a parchment-lined baking sheet. Bake until golden and bubbling, 20 minutes.
Check Out Our Mexican Chorizo Brands Online
We hope you have fun making these poppers. Be sure to take a look at our Mexican chorizo brands and order chorizo online!
We sell:
Beef chorizo
Pork chorizo
Chicken chorizo
San Luis Chorizo
Send us a message if you have any questions about our online ordering. Tag us on Instagram and Facebook.