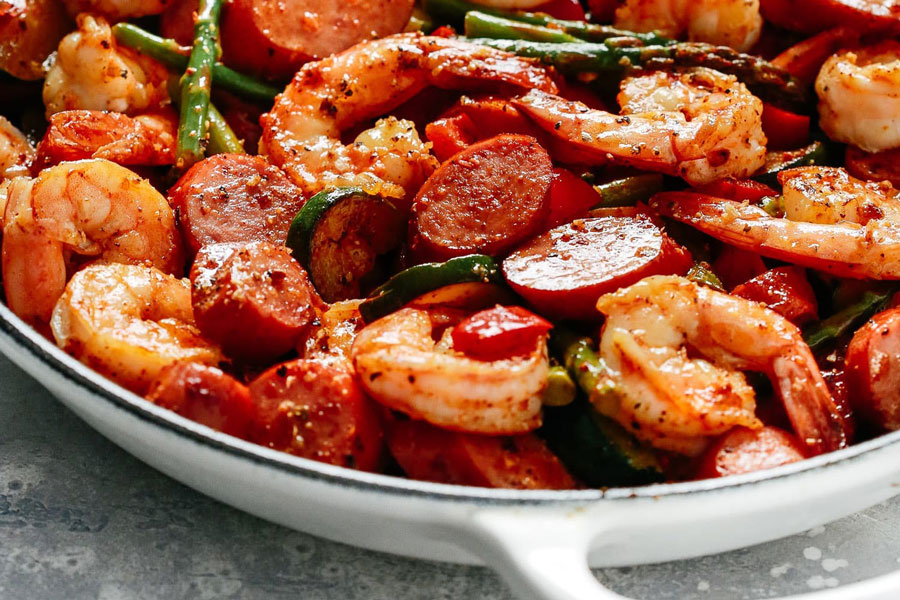 16 Jul

Shrimp & Cilantro Sausage Veggie Skillet

Recipe / Photo courtesy of PrimaveraKitchen.com.

Enjoy a healthy surf and turf meal that's gluten-free, paleo-friendly, and takes less than 30 minutes to make! This week's recipe is for a shrimp and cilantro sausage vegetable skillet that comes to us from the talented chefs at PrimaveraKitchen.com.

It also works perfectly as a dish for healthy meal-prepping! For the sausage portion, we will be substituting in our cilantro sausage. For more spice, use our jalapeño and cheese sausages!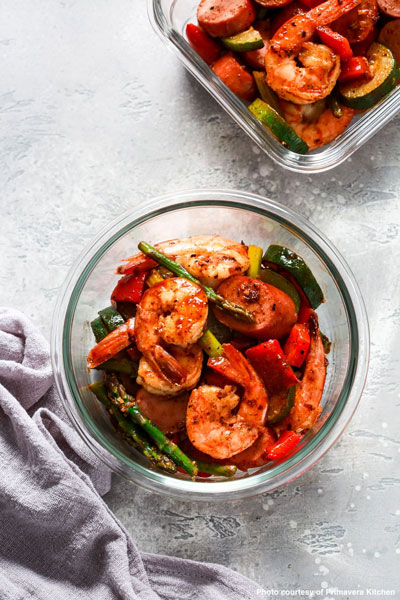 Preparation Time
10 minutes
Cooking Time
15 minutes
Yields
4 servings
Ingredients
For the shrimp and sausage:
1 tablespoon of olive oil
3 cloves of minced garlic
1 pound of raw, deveined, and shelled shrimp
Kosher salt and freshly ground black pepper
A pinch of crushed red pepper or red pepper flakes
1 teaspoon of onion powder
1 teaspoon of paprika
½ a pound of sliced cilantro sausage
For the vegetables:
1 tablespoon of olive oil
1¼ cup of diced red peppers
1 cup of minced asparagus
2 cups of chopped zucchini
2 tablespoons of vegetable broth
Directions
In a bowl, add and mix the shrimp, salt, pepper, red pepper flakes, onion powder, and paprika.
In a large cast-iron skillet, sauté one tablespoon of olive oil and garlic over medium heat for 30 seconds.
Stir in the shrimp and cook for about four minutes, remove, and set aside.
In the same skillet, cook the cilantro sausage for three to five minutes, remove, and set aside.
Again, in the same skillet, add the rest of the olive oil, veggies, and veggie broth. Cover and cook for seven minutes over low heat.
Stir in the cooked shrimp and sausage, cook for two minutes, and garnish with fresh parsley.
Enjoy!
Be sure to try our other sausage and chorizo recipes featuring our authentic Mexican chorizo brands. Pick up our products at your local grocery store or buy our chorizo and sausage online! We'll ship them to you with our nationwide shipping. Place your order today!