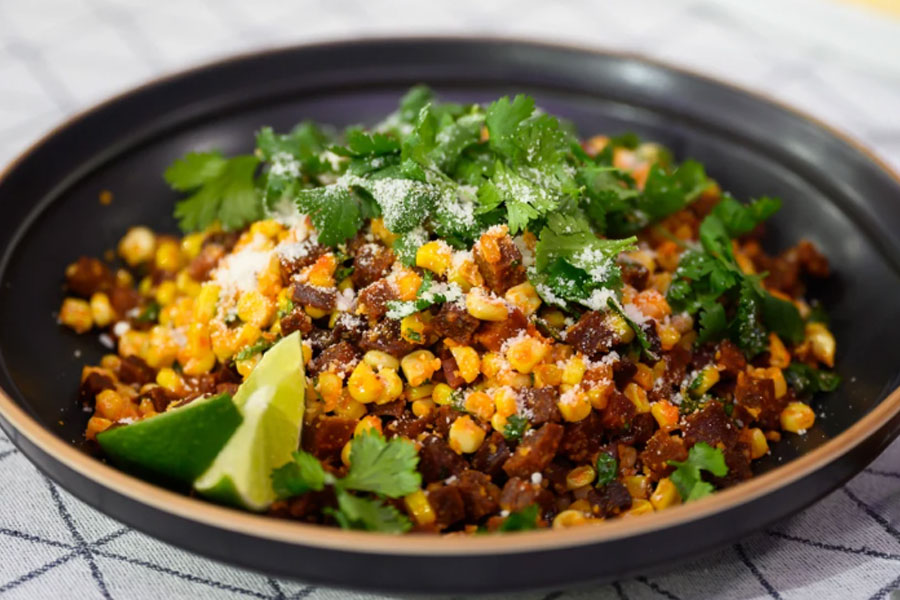 15 Jul

Make Chef Antoni Porowski's Summer Corn Dish with our Texas Brand Chorizo

Recipe and picture courtesy of Antoni Porowski on Today.

Are you looking for a quick and easy five-minute dish to make before you step out to enjoy your Summer adventures? Look no further than celebrity chef, actor, and model Antoni Porowski's delicious summer corn with our Texas brand chorizo. Simply replace with our pork, chicken, beef, or San Luis chorizo. Thank you to Antoni Porowski on Today for this recipe. 
Total Time
15 Minutes
Yield
4 Servings
Ingredients
Kosher salt
2 teaspoons of grated lime zest
3 ears of corn, shucked and kernels cut from the cobs
1 7-ounce (about 1 ⅔ cups) package of chorizo, cut into cubes

 

½ cup of coarsely chopped fresh cilantro, leaves, and tender stems
1 tablespoon plus 2 teaspoons of fresh lime juice (from 1 large lime)
½ cup (about 2 ounces) of finely grated Parmesan, preferably Parmigiano-Reggiano
Directions
Heat a large skillet over medium heat until very hot but not smoking.
Toss in the chorizo and cook, undisturbed, until crispy on the bottom, about 5 minutes. Then continue cooking, stirring occasionally, until crispy all over, about 5 minutes more.
Add the corn and cook until it is warm and crisp-tender or about 1-2 minutes.
Stir in the cilantro, cheese, lime zest, lime juice, and a pinch of salt.

 

Cook for 1 more minute, then remove from the heat. Adjust the seasoning to taste. Serve while hot.
Order Our Texas Brand Chorizo Online
Check out all of our Texas brand chorizo products and recipes and get cooking this Summer! Be sure to send us a message online if you have any questions about our online ordering. Tag us cooking up your burritos on Instagram and Facebook.