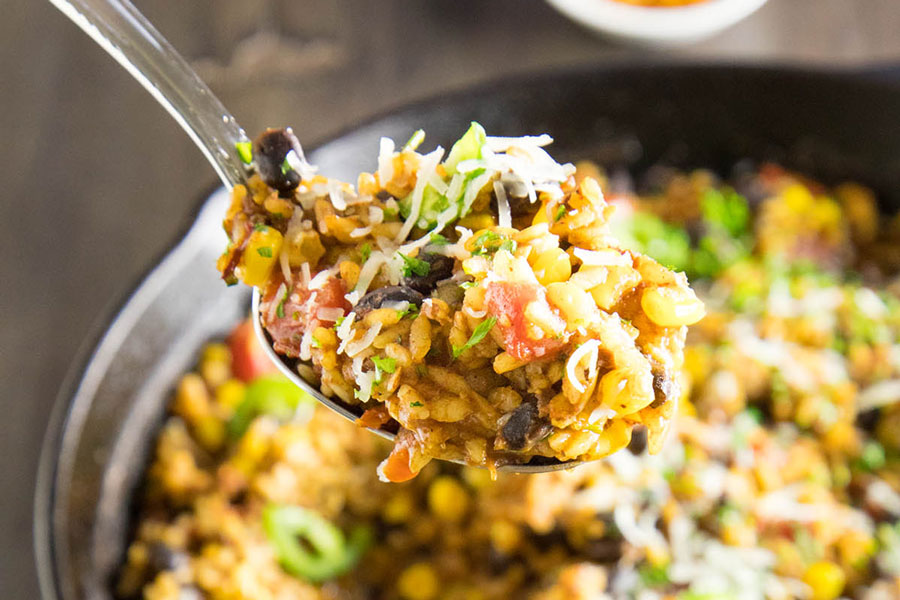 07 Jul

Spice Up Summer with Classic Mexican Chorizo, Rice and Beans

Photo and recipe courtesy of ChiliPepperMadness.com

What's better than having all your Mexican favorites in one dish? Adding your favorite classic Mexican chorizo flavor to it! This recipe combines all your favorites into one amazing recipe, making it a nice and refreshing dish to try this summer with your family! We want to thank the creative genius at Chili Pepper Madness for their take on the cult classic!

Choose from our Savory Mexican chorizo options for this recipe – Beef Chorizo, Pork Chorizo, Chicken Chorizo, and San Luis Chorizo.
Prep Time
10 minutes
Cooking Time
40 minutes
Servings
8
Ingredients
½ teaspoon cumin
2 tablespoons olive oil
4 cloves garlic chopped
Salt and pepper to taste
1-1/2 cups long grain rice
8 ounces of Mexican chorizo
12 ounces diced tomatoes
2 jalapeño peppers chopped

 

1 teaspoon Mexican oregano
½ cup frozen corn or fresh corn
1 medium yellow onion chopped
2 cups chicken broth or more
12 ounces of black beans canned, drained
Cilantro and crumbly white cheese for serving
1-2 tablespoons of favorite hot sauce + more for serving
1-2 tablespoons chili powder I used a combination of ancho powder and cayenne powder
Directions
Heat a large pan to medium heat and add olive oil.
Add onion and jalapeño peppers and cook for about 5 minutes to soften.
Add the chorizo and cook for about 5 minutes, stirring, until it is cooked through.
Add garlic and cook another minute, until you can smell the yummy garlic.
Add the rice and stir.

 

Cook for a couple of minutes, stirring, to very lightly brown the rice.
Add the black beans, diced tomatoes, and broth and stir to combine.
Add the corn, chili powder, cumin, oregano, salt and pepper, and hot sauce if using. Stir and bring to a quick boil.
Reduce the heat and simmer for about 30 minutes, or until the rice has absorbed all of the liquid and is softened to your liking. If it needs more cooking, add a bit more broth and keep it simmering.
Remove from heat, cool slightly, and fluff with a fork. Top with cilantro for serving. Can top it with crumbled white cheese too.
Find More Recipes
Follow us on Facebook, Instagram, and TikTok to see even more recipe inspiration. Read about more savory Mexican chorizo recipe ideas, including:
Order Classic Mexican Chorizo Online
Order Mexican chorizo and our prime beef products online today. If you have any questions regarding purchases or nationwide shipping, contact us today.