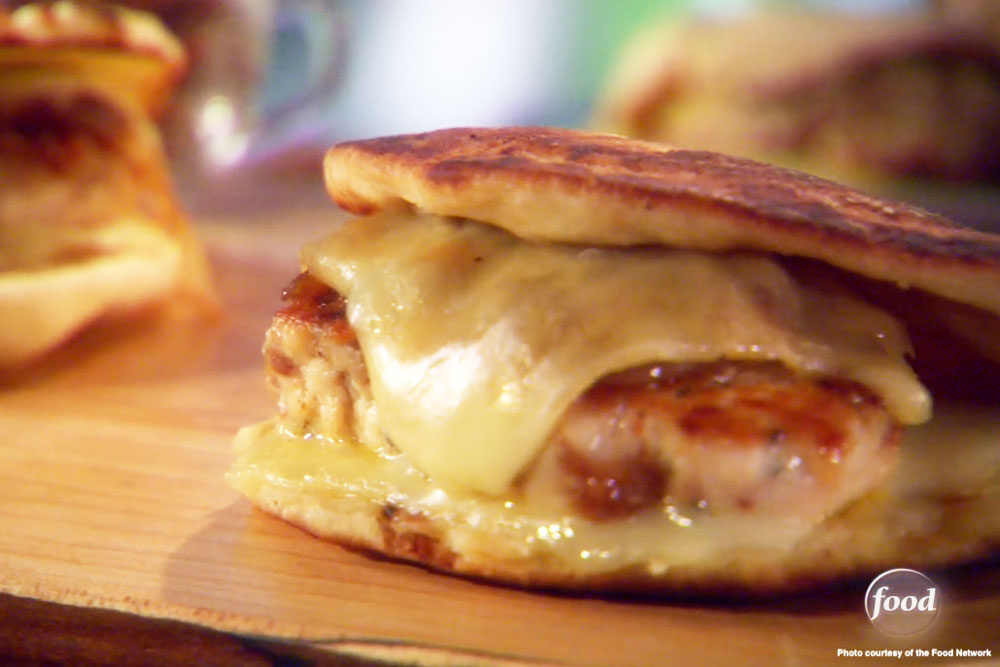 01 Apr The Chicken Chorizo Melt, A Sandwich Loaded with Flavor!
Recipe and photo courtesy of Sunny Anderson at FoodNetwork.com.
At Chorizo de San Manuel, we focus on recipes that include our beef and pork chorizo, but if you enjoy a delicious chicken sandwich, then we have a recipe that you're going to love! This chicken chorizo melt features one of our favorites: our chicken chorizo! Just like our other Texas brand of chorizo, our chicken chorizo is made with 100% natural ingredients and does not contain any additives, preservatives, or artificial coloring.
Preparation Time
40 minutes
Cooking Time
20 minutes
Yields
4 servings
Ingredients
1 lb. of ground chicken 
6 ounces of our chicken chorizo 
2 minced garlic cloves
2 tablespoons of chopped fresh oregano leaves
1 teaspoon of kosher salt 
1 tablespoon of butter
5 tablespoons of vegetable oil 
1 large, sliced sweet onion 
4 slices of flat or pita bread 
8 slices of swiss cheese
Ketchup for dipping   
Directions 
In a large bowl, mix the ground chicken, chicken chorizo, garlic cloves, kosher salt, and oregano leaves. Form four patties. 
Cover the patties with plastic wrap or paper towels and refrigerate for 30 minutes. 
In a pan, melt the butter over medium heat. Add the sliced onions and season with a pinch of salt and pepper. 
Sauté the onions until caramelized and set aside. 
Preheat a griddle or pan with two tablespoons of oil over medium heat. 
Fully cook the patties, wipe down the griddle or pan, add two more tablespoons of oil, and lower the heat to low. 
Assemble the sandwiches by layering them however you like.  
Add them to the griddle until the cheese is melted and the bread is toasted.
Serve and enjoy!
Tag us on Facebook, Twitter, and Instagram if you try this out! Be sure to buy chorizo online and have it delivered to your doorstep!