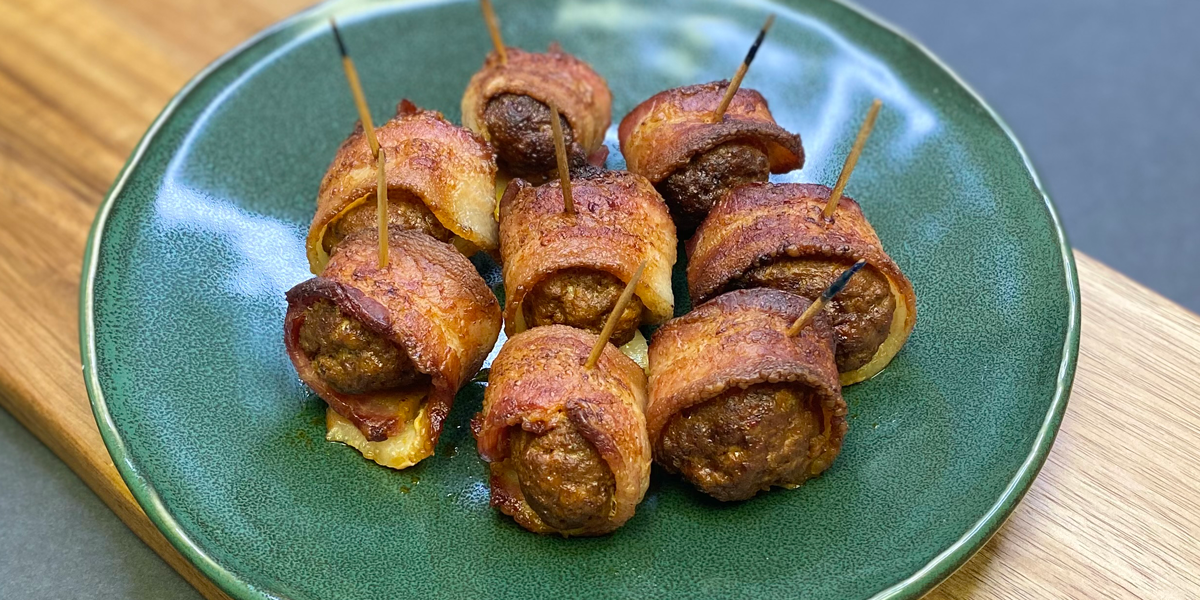 13 Apr Try These Flavorful and Unique Air-Fried Bacon-Wrapped Chorizo Balls!
Recipe courtesy of HEB.com.
For today's recipe, we're combining two of our favorite ingredients: chorizo and bacon! It's easy to make but requires an air fryer, which is perfect because it'll drain excess grease. This dish comes to us from the talented chefs at H-E-B, and you're going to love it! For the chorizo, we'll be using a true Texas brand of chorizo: our own pork chorizo made and packaged here in South Texas! Check it out!
Preparation Time
10 minutes
Cooking Time
15 minutes
Yields
4 servings
Ingredients
8 ounces of our pork chorizo
8 slices of H-E-B Original Thick Cut Bacon
Toothpicks to serve with
Directions
Grab about 1-ounce chunks of the chorizo and roll them into egg-shaped balls.
Wrap one slice of bacon around each.
Place the balls in the air fryer and cook at 360°F for 15 minutes. After 7 minutes, use a hot pad to drain the grease and continue cooking.
Remove the balls from the air fryer, slide a toothpick into each, and enjoy!
If you liked this tasty dish, then you'll love our other chorizo recipes! If you can't find our chorizo at your local grocery store, then buy chorizo online with our nationwide shipping.