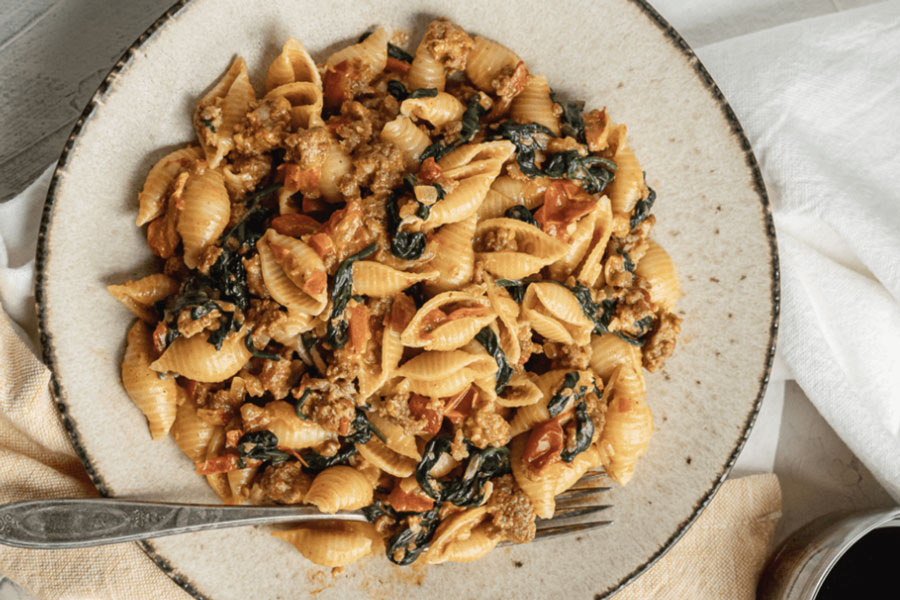 21 Jun

Enjoy a Creamy Spinach and Mexican Chorizo Pasta Dinner

Photo and recipe courtesy of Aflavorfuljournal.com

Turn pasta into a flavorful recipe using chorizo and spinach with this Mexican chorizo pasta dinner! This yummy comfort food is sure to turn basic pasta into a wonderful new and unique food that everyone will love! We want to thank the creators at Aflavorfuljournal.com for this creamy recipe!
Prep time
5 minutes
Cooking time
25 minutes
Serves
4
Ingredients
Pasta water
1 Tbsp. olive oil
1/2 yellow onion
1/2 cup half & half
1/2 red bell pepper
2 cloves minced garlic
2 lemon wedges

 

1 cup cherry tomatoes
1/2 tsp. granulated sugar
4 cups baby spinach
1/2 tsp. crushed red pepper
1/2 lb. fresh Mexican chorizo
1/3 cup finely grated parmesan
1 1/2 cups medium shells dried pasta
Kosher salt & freshly cracked black pepper
Prepping Directions
Quarter the cherry tomatoes.

 

Remove the stem and the seeds from the red bell pepper.

 

Finely chop the bell pepper and onion.
Directions
Heat olive oil in a large skillet over medium heat.

 

Add tomatoes, bell pepper, and onion with a pinch of salt and the crushed red pepper. Stir to coat everything in the oil, then cook for 7-8 minutes until the vegetables are softened.
In a pot, boil the pasta shells until al dente (about one minute less than the package directions.). To time this best, pour the pasta into the boiling pasta water when you add the chorizo to the softened vegetables.
Add the Mexican chorizo and garlic, and cook for 5-6 minutes, breaking the chorizo into small pieces as it cooks.

 

Stir in the sugar, then pour in the half & half.

 

Stir the half & half into the chorizo until it is mostly absorbed.
Then stir in the fresh spinach until it has completely wilted down and mixed into the chorizo sauce.
Use a slotted spoon to transfer the cooked pasta shells directly into the chorizo and spinach sauce, reserving the pasta water.

 

Stir to coat the pasta entirely in the chorizo and spinach sauce, then turn the heat off from under the skillet.
Stir in the parmesan.

 

If you want creamier pasta, stir in reserved pasta water 1/4 cup at a time until it's as creamy as you like it. Taste the pasta, and season with salt and pepper to taste.
Stir in the freshly squeezed lemon juice, and serve immediately.
 Try this Mexican Chorizo Pasta Dinner!
Check out more of our hassle-free recipes like this Mexican chorizo pasta dinner! Order Mexican Chorizo online, and send us a message if you have any questions regarding your order. Click Here to Shop Our Mexican Chorizo Products.
Show us some of your culinary favorites on our Instagram and Facebook.