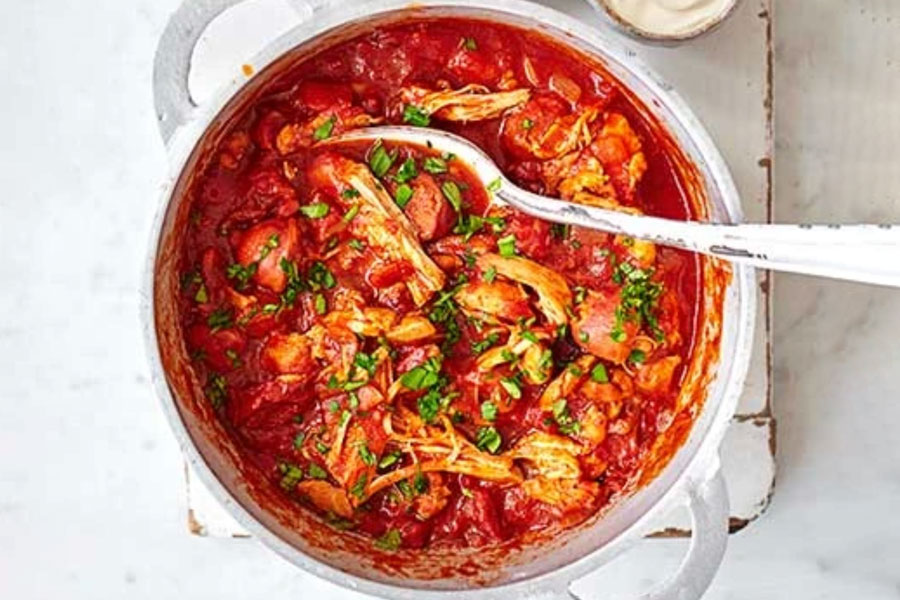 25 Aug

Feast on Chicken and Mexican Chorizo Ragu

Photo and recipe courtesy of BBC Good Food.

Need a new take on how you can cook your chorizo for your next meal time? This recipe is not only savory but it has lots of interesting flavors that go with chicken and Mexican chorizo! Try out this recipe, courtesy of BBC Good Food, for this ultimate summer feast. 

Choose from our Savory Mexican chorizo options for this recipe – Beef Chorizo, Pork Chorizo, Chicken Chorizo, and San Luis Chorizo.
Prep Time
15 mins
Cook Time
40 Mins
Servings
4
Ingredients
1 lemon, juiced
100ml chicken stock
1 red onion, chopped
2 garlic cloves, grated
1 tsp hot smoked paprika
400g can of chopped tomatoes
120g cooking Mexican chorizo, chopped
80g sundried tomatoes, roughly chopped
600g skinless and boneless chicken thighs
jacket potatoes, chopped parsley, and soured cream, to serve (optional)
Directions
Fry the Mexican chorizo over medium heat in a large saucepan or flameproof casserole dish for 5 mins or until it releases its oil and starts to char at the edges.

 

Add the onion and fry for 5 mins more or until soft.

 

Add in the garlic and cook for 2 mins before stirring in the paprika and sundried tomatoes.

 

Add the chicken thighs and fry for 2 mins on each side until they are well coated in the spices and beginning to brown.
Pour in the chopped tomatoes and stock, and turn the heat down.

 

Cover and cook for 40 mins until the chicken is falling apart and the sauce is thick. Stir the lemon juice through.

 

Serve by piling spoonfuls of the ragu into hot jacket potatoes with parsley sprinkled over and a dollop of soured cream, if you like.
Find More Recipes
Follow us on Facebook, Instagram, and TikTok to see even more recipe inspiration. Read about more savory Mexican chorizo recipe ideas, including:
Try This Chicken and Mexican Chorizo and Order Chorizo Online
Buy your favorite chorizo and meat boxes online and get cooking. Contact us online if you have any questions regarding shipping to your address, and remember to share your culinary creations on Facebook, Tik Tok, and Instagram!