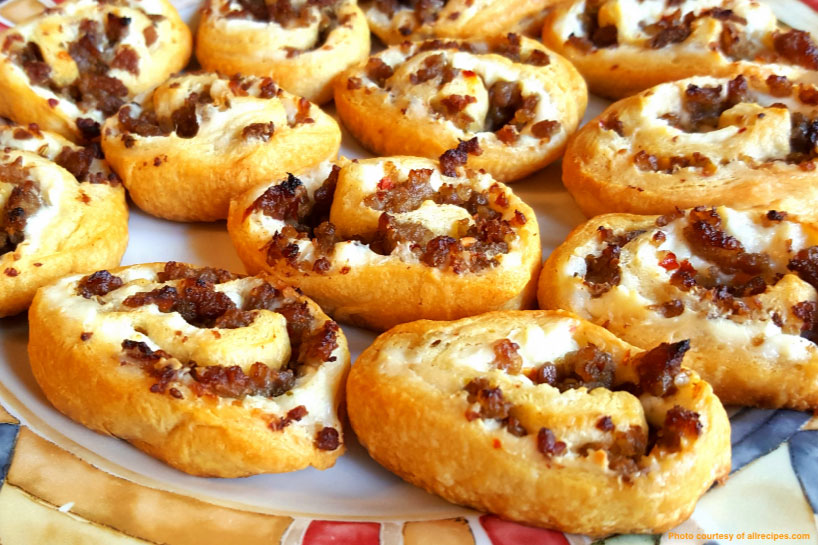 19 Mar Chorizo Cream Cheese Pinwheels – A Puff Pastry Delight!
Recipe and image courtesy of AllRecipes.com.
If you're looking for a game day appetizer or afternoon snack, then some chorizo cream cheese pinwheels might do the trick! These puff pastries are easy to make and don't require many ingredients, only cream cheese, crescent rolls, and the best chorizo brand on the market. This recipe comes to us from user brandi03 of AllRecipes.com. As usual, we'll be using our pork chorizo for some added flavor!     
Preparation Time
1 hour
Cooking Time
25 minutes
Yields
12 servings
Ingredients
1 pack of our pork chorizo
2 8-ounce packages of refrigerated crescent rolls 
8 ounces of softened cream cheese   
1 tablespoon of flour
Parchment paper
Directions
Cook the chorizo over medium heat for 5 to 8 minutes and drain the grease.
On your counter or cutting board spread some flour and spread the crescent rolls from one package. 
Add a layer of cream cheese but leave a half-inch margin all around.
Sprinkle half of the cooked chorizo evenly over the cream cheese and roll up the dough into a log. 
Wrap the log in parchment paper and repeat the process for the second pack of dough. 
Refrigerate for one hour.
Preheat the oven to 375°F.
Unwrap the parchment paper, cut into half-inch slices, and place on a baking sheet.
Bake for 12 to 15 minutes or until the pinwheels are golden brown. 
Let them cool and enjoy! 
If you liked this dish, then you'll love our other chorizo recipes! You can find our products at most local grocery stores or you can buy chorizo online and have it shipped to your home! We also offer prime ribeye, beef and chicken fajitas, and the best sausage in Texas, too! Be sure to let us know how your chorizo pinwheels came out by tagging us on Facebook, Twitter, and Instagram.