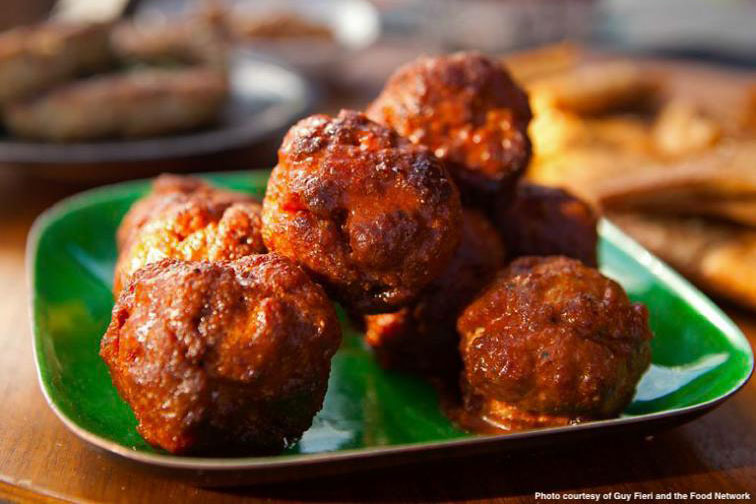 06 Apr

Check Out These Savory Chorizo Meatballs to Serve as Your Next Appetizer!

Recipe and photo courtesy of Guy Fieri and FoodNetwork.com.

If you like some spiciness in your appetizer before digging into the main course, then you're going to love these spicy chorizo meatballs! Substituting this week's recipe's chorizo option with our own pork chorizo, these meatballs are quick and easy to make. This dish comes to us from the one and only Guy Fieri of FoodNetwork.com, and they are delicious! 
Preparation Time
10 minutes
Cooking Time
15 minutes
Yields
8 meatballs
Ingredients
2 tablespoons of smoked paprika
1 tablespoon of granulated garlic

 

1 tablespoon of kosher salt

 

2 teaspoons of onion powder

 

1 teaspoon of ground cumin

 

¼ teaspoon of freshly cracked black pepper
1/8 teaspoon of cayenne pepper

 

1 lb. of our pork chorizo

 

2 tablespoons of freshly-chopped parsley for garnish

 
Directions
Preheat your oven to 350°.
In a large bowl, add the paprika, granulated salt, onion powder, cumin, black pepper, cayenne, and

pork chorizo.

Mix well.

 

Roll the meat into small, two-ounce balls and place them onto a baking sheet.

 

Bake for 10 to 15 minutes.

 

Arrange them on a serving dish, garnish with parsley, and enjoy!

 
If you liked this appetizer, then you'll love our other chorizo recipes! Pick up Chorizo de San Manuel, the best chorizo you'll ever have, at your local grocery store today, or buy our chorizo online with nationwide shipping! Take a photo and tag us so we can share it on Facebook, Twitter, and Instagram!