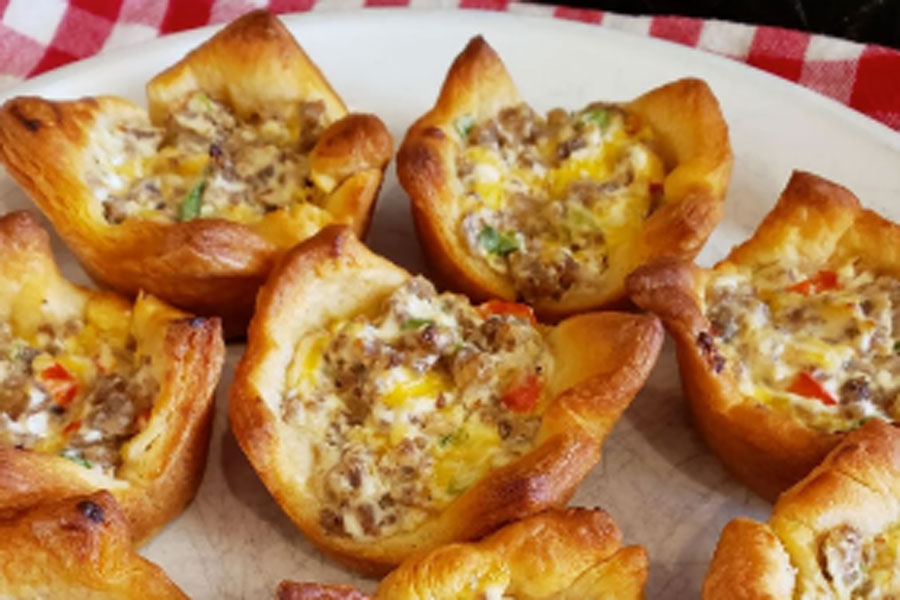 09 Mar

Try These Delicious Chorizo Cups for a Bite-Sized Snack!

Photo and recipe courtesy of HappySchmoopies of AllRecipes.com.

Everyone loves bite-sized appetizers, whether at a restaurant or home! And if you add our Texas brand chorizo, you'll truly have something special. For this week, we'd like to introduce a recipe courtesy of "Happyschmoopies" of AllRecipes.com. As usual, we've substituted in our pork chorizo to make this dish extra yummy! 
Preparation Time
30 minutes 
Cooking Time
20 minutes
Yields
48 chorizo cups
Ingredients
1 12-ounce pack of our Guerra's Brand pork chorizo

 

1 8-ounce can of Philadelphia Cream Cheese
4 ounces of garden vegetable cream cheese
1 cup of shredded cheddar cheese

 

¼ cup of finely chopped red bell peppers

 

¼ cup of finely chopped green onion
2 8-ounce packs of crescent roll sheets

 

2 24-cup mini muffin nonstick pans

 
Directions
Preheat your oven to 375°F.

 

Cook the chorizo over medium heat until done.

 

Mix the bell peppers, onions, chorizo, and all cheeses in a large bowl.

 

Take a crescent dough sheet and cut six rows across and four rows vertically to make 24 squares. Repeat with the other crescent dough sheet.
Press these squares into each cup of the mini muffin pans.

 

Drop 1 spoonful of the mix into each cup. Bake for 11 to 13 minutes or until golden brown.

 

Allow the cups to cool a bit and serve.
Enjoy!
If you loved this chorizo recipe, then you'll definitely want to try our others, too! Be sure to order our chorizo online and tag us on Facebook, Twitter, and Instagram!