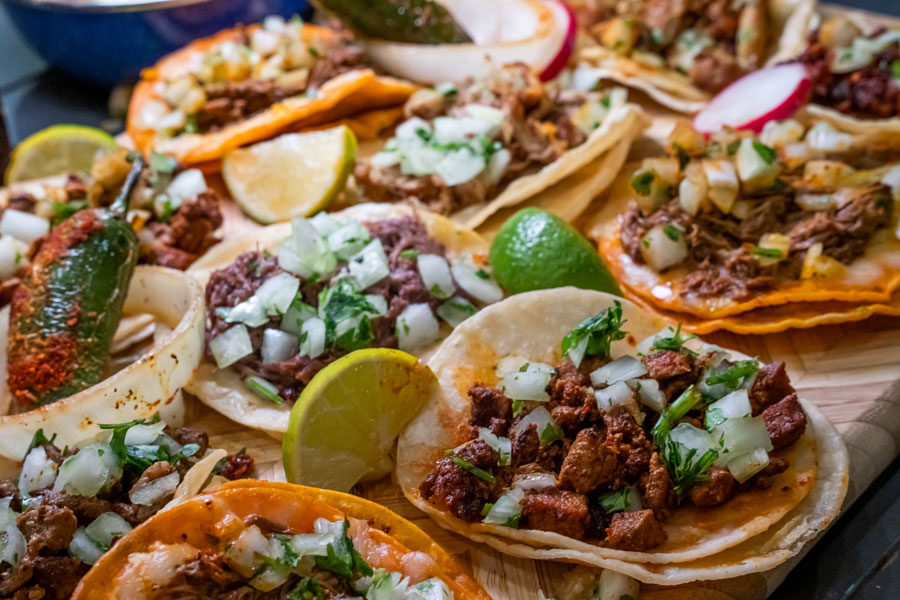 09 Aug

Pork Mexican Chorizo Tacos Are the Perfect Family Dinner

Tacos – the ultimate variety meal that is sure to satisfy, but do your tacos ever look and taster underwhelming? Whether you just need a quick bite, or want a heart family dinner, adding our Mexican chorizo can make the difference for your meals. Try a classic recipe using our spiced Pork Chorizo instead of the standard proteins.

What you'll need:
1 Package Chorizo De San Manuel Pork Chorizo (Or any chorizo of your choice)
1/2 cup Cilantro
1/2 cup White Onion
Lemons
Flour or corn tortillas
Avocado (optional)
In a large saucepan, take the Chorizo and cook it on medium-low heat. Do not add oil or fat of any kind, the chorizo will cook on its own. Let it cook for 2-5 mins.
While the chorizo is cooking, dice your white onion into small cubes.

 

Chop your cilantro as well until it is finely chopped then set them both aside.
Cut your lemons into fours, and set those aside.
Once your chorizo is turned into a dark color, lower the flame and let it cook for another 2-5 mins until the color is completely dark, do not overcook the chorizo.

 

Heat up your choice of tortillas or fry your tortillas for an irresistible crunch!
Serve with cilantro, onion, lemon, and avocado.
Show us how you eat Mexican chorizo on Facebook and Instagram.

Different Types of Chorizo
Chorizo De Manuel has been creating a variety of Mexican chorizo since 1975! Since it's one of the most popular dishes within the Hispanic community, it can be served in many ways.
Try our other flavors in more family-dinner recipes:
Pork Chorizo
Our Pork Chorizo is one of the most popular products, and can be used in several dishes. Pork chorizo has a unique and spicy flavor sure enough to awaken your inner Latino. With its flavorful spices and juicy pork flavor, it can be paired well with seasonal dishes this coming fall!
Beef Chorizo
The tender and soft flavor of beef chorizo takes your tastebuds to a whole new level. Our beef chorizo has a savory flavor that that melts-in-your-mouth. This kind of chorizo has lots of spices and a nice garlic flavor to finish, providing a variety of flavors you can combine with to make a full-hearty meal. 
Chicken Chorizo
Chicken chorizo is made with quality ingredients and selective chicken meat, along with a vast combination of flavorful spices that balances the chicken flavor and the spices altogether. It's perfect for those who prefer chicken over beef or pork. Chorizo has a combination of mixed ingredients that gives an unforgettable flavor and is a favorite among our customers.
Chorizo San Luis
This kind of chorizo has a much more concentrated flavor than the original Pork chorizo. It contains a high-fat content, as well as more seasonings to compliment the pork. Its savory and scrumptious pork flavor is much higher than the original.
Order Chorizo Online Today
You can order chorizo online and our other meat products too! You may even find chorizo at your grocery store! Send us a message online if you have any questions regarding our products.