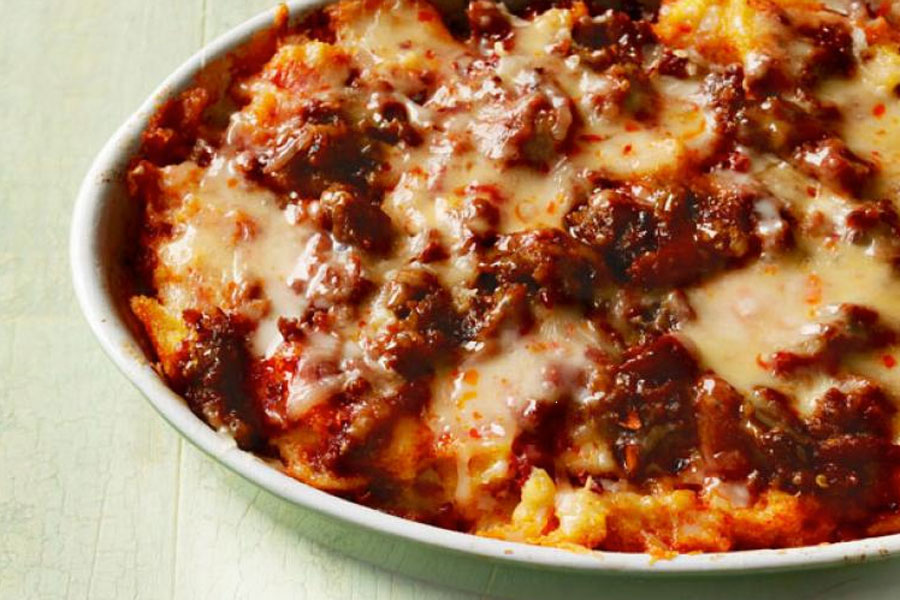 05 Feb A Delicious and Delectable Chorizo Lasagna-Style Dish That Anyone Will Love!
Recipe and photo courtesy of Guy Fieri and FoodNetwork.com.
For this week's recipe, we'll be combining several ingredients that you'd never expect would create such unbelievable flavors! This chorizo and polenta lasagna dish is from world-renowned chef Guy Fieri at FoodNetwork.com. For the chorizo, we'll be substituting Fieri's choice with our beef chorizo to take this entré to the next level.
Preparation Time
50 minutes
Cooking Time
1 hour
Serves
6 
Ingredients

For the polenta:
1 quart of low-sodium chicken stock 
1¼ cups of quick-cooking polenta 
Kosher salt 
2 tablespoons of unsalted butter  
For the lasagna:
1½ tablespoons of extra virgin olive oil
1 bunch of Swiss chard
1 clove of minced garlic 
Kosher salt and pepper
½ of a cup of grated fontina cheese
½ of a cup of grated mozzarella cheese
For the chorizo:
1 pack of our own Guerra's Brand beef chorizo
Directions
Bring the chicken stock to a boil in a large pot and add the polenta. Stir for three to four minutes. 
Sprinkle half a teaspoon of salt, cover, and cook for five to six minutes. Add the melted butter and keep the polenta warm.
In a medium skillet, cook the chorizo for about five to seven minutes and keep warm.
Wash, drain, and slice the Swiss chard. 
In a large skillet, add the garlic and olive oil and set to medium heat. Add the chard and sauté for three to four minutes. Sprinkle in a pinch of salt and pepper and continue to stir. 
Drain in a colander and squeeze out any excess moisture. 
Preheat your oven to 350°.
Oil a medium-sized baking pan and evenly add half of the polenta. Evenly pour half of the chorizo on and then spread a layer of half of the mozzarella. Tack on the remaining polenta evenly, followed by the remaining chorizo and mozzarella. 
Cover with foil, place on a sheet tray, and bake for 30 minutes. 
Turn on the broiler, remove the foil, and broil for three minutes or until the cheese begins to bubble. 
Let it sit for 25 minutes before serving. 
Enjoy!
Dinner is always a treat when lasagna is served! If you loved this dish, you will savor our other recipes! And be sure to snap a photo and tag us on Facebook, Twitter, and Instagram! Always remember that the best Texas-brand chorizo can be found only at Chorizo de San Manuel! Buy chorizo online by clicking here!