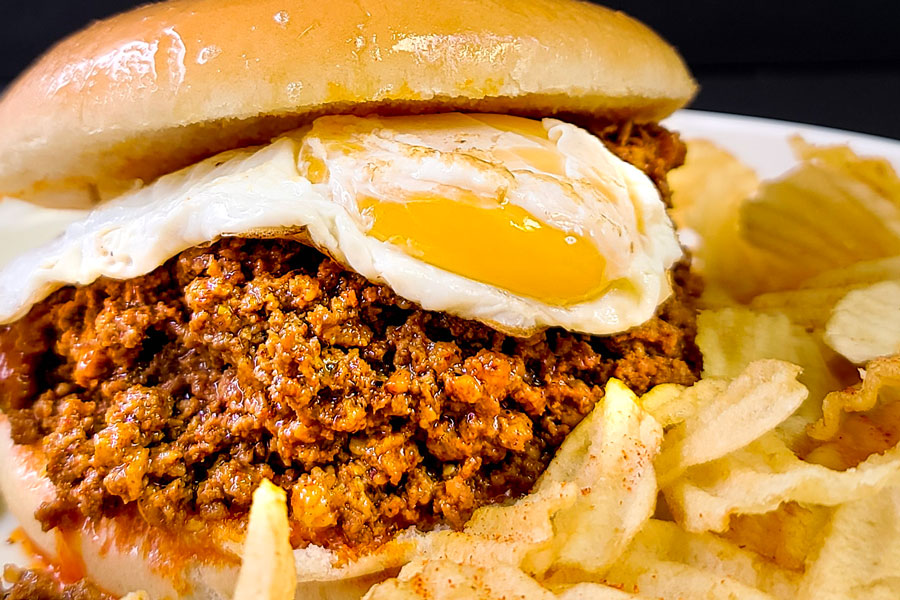 29 Dec

Serve Up a Delicious New Take on Sloppy Joes with a Helping of Our Chorizo!

Recipe courtesy of IncredibleEgg.org.

Tons of people out there love Sloppy Joes, especially kids! If you're planning on making some for brunch, lunch, or even dinner, then why not mix things up a bit (literally) for some added flavor? Today's recipe for Sloppy Joes comes to us from IncredibleEgg.org, but we'll be adding more flavor by substituting one pound of ground beef in the original recipe with our own along with a pack of our signature beef chorizo! Try it out!
Preparation Time
5 minutes
Cooking Time
27 minutes
Total Time
32 minutes
Serves
8 sandwiches
Ingredients
1 12-ounce pack of our beef chorizo

1 pound of our ground beef

8 large eggs

1 tablespoon of olive oil

1 small, finely chopped onion

1 cup of ketchup

¼ cup of water

1 tablespoon of vinegar

2 tablespoons of sugar

1 teaspoon of salt

¼ teaspoon of black pepper

¼ teaspoon of paprika

8 hamburger buns

3 tablespoons of butter
Directions
Pour the olive oil into a large skillet over medium heat.

Fry the eggs sunny side up. Once cooked, cover to keep them warm.

Add the chopped onion to the skillet and sauté until transparent.

Cook the beef and chorizo until done and set the heat to low. Drain any grease.

In a mixing bowl, whisk together the ketchup, vinegar, sugar, salt, pepper, and paprika.

Add the mix to the meat, cover, and simmer for 20 minutes. Stir occasionally.

Butter and toast the buns.

Add the Sloppy Joe mix to each bun, top off with one fried egg, and serve.

Enjoy!
This recipe is delicious, and you can enjoy it any time of the day. Be sure to check out our other recipes and tag us on Facebook, Twitter, and Instagram if you try them!