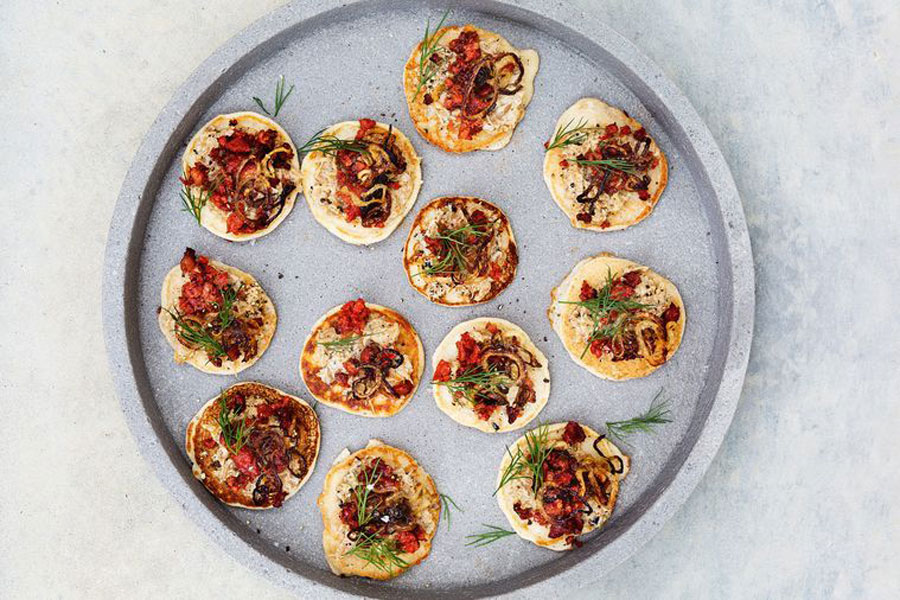 23 Nov Create this Holiday Chorizo Appetizer in Under 30 Minutes
Recipe and photo courtesy of Delicious.com
What pairs well with any dish this holiday season? Our Texas brand chorizo, of course! Try this holiday chorizo appetizer that will add a savory and subtle spicy kick to any dish, even your holiday dishes. Show off your hosting skills this holiday season and serve up simple appetizers for your guests with these Chorizo and Onion Goat Cheese Blinis, courtesy of chefs at Delicious.com!
Preparation Time
15 Minutes
Cooking Time
15 Minutes
Ingredients
 16
Serves
10 Servings
1 egg
½ cup (125ml) milk
1 tsp caster sugar
2 tsp caster sugar
Dill sprigs to serve
½ tsp baking powder
⅓ cup (80 ml) olive oil
¼ cup (35g) plain flour
50g soft goat's cheese
2 tsp white wine vinegar
2 onions, peeled, halved
½ cup (60g) buckwheat flour
2 pickling onions, thinly sliced
100g soft goat's cheese, crumbled
20g unsalted butter, melted, cooled
100g dried chorizo, casing removed, finely chopped
Directions
For the Onion Dip
Preheat oven grill to high.
To make burnt onion dip, place onions on a baking tray and brush with two tbs oil. Grill onions, turning every 4-5 minutes, for 15 minutes or until blackened.
Sprinkle with sugar and drizzle with vinegar, then cover tray tightly with foil and set aside to cool.
When cool, transfer the onion to a food processor and pulse until finely chopped. Add the goat's cheese and whiz to combine. Season then set aside.
For the Blinis
Combine flour, baking powder, and sugar in a bowl. Make a well in the center, then add the milk, goat's cheese, egg, and butter. Season, and whisk until smooth.
Heat a large non-stick frypan over medium heat. In batches, place teaspoonfuls of batter into the pan, spreading out into small circles.
Turn over halfway through cooking, for 1-2 minutes or until golden.
Remove and cool on a wire rack. Repeat to make 30 blinis.
Add remaining two tbs oil to frypan and increase heat to medium-high.
Add the chorizo and occasionally stir for four to five minutes or until crisp and golden. Remove with a slotted spoon and set aside, reserving oil in the pan.
Add pickling onion to the frypan and occasionally stir for two to three minutes or until crisp.
Spread blinis with onion dip, then top with crisp chorizo, onion, and dill to serve.
Need a Chorizo Appetizer? Check Out Chorizo De San Manuel! 
From our humble beginnings to our thirty-year-long growth in South Texas, we serve chorizo with varying flavors for the meals that mean the most to you and your family. This holiday season, add a kick of flavor to your meals:
Order Chorizo Online for the Holiday Season
Shop our prime beef products this holiday season, including our Texas chorizo brand. Send us a message if you have questions regarding shipping nationwide. You can follow us for more holiday updates on Instagram and Facebook.