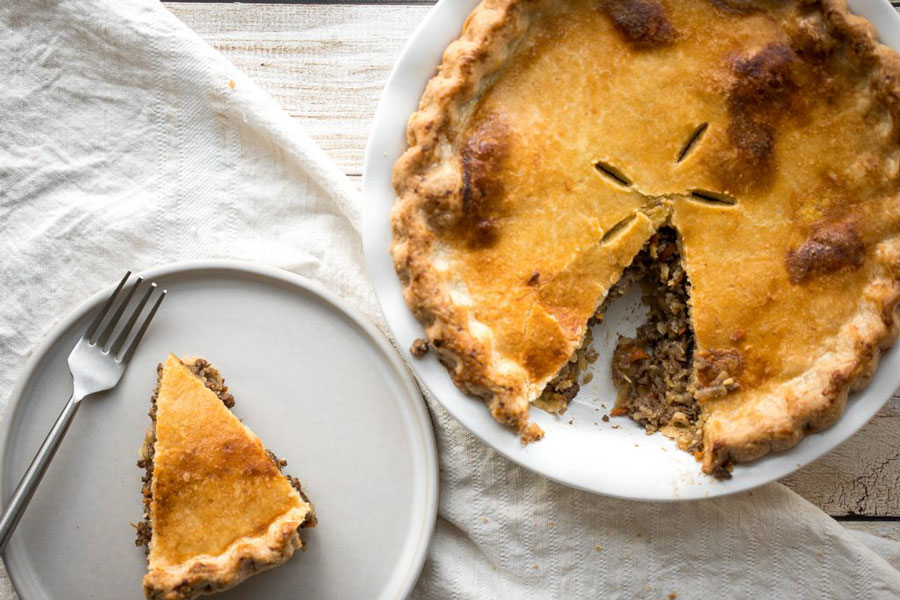 07 Apr

Enjoy a Heaping Serving of Beef Chorizo Pie

Recipe and picture courtesy of Ahead of Thyme.

Your next heart meal, needs to be beef chorizo pie! Buy our prime beef products online, and make sure to mix in beef chorizo or San Luis chorizo for a savory taste. We would like to thank the talented chefs from Ahead of Thyme for this recipe.
Total Time
1 Hour, 30 Minutes
Yields
1 (9-inch) Pie
Ingredients
1/3 cup of butter
2 teaspoons of salt
1 lb. of ground beef
2 carrots, peeled and grated
1 egg, beaten (for egg wash)
1/2 cup of Panko breadcrumbs
9-inch double-crust pie dough
1 cup of onions, finely chopped
2 tablespoons of garlic, minced
1 tablespoon of dark soy sauce
1 teaspoon of ground black pepper
1 tablespoon of Worcestershire sauce
2 medium potatoes, peeled and grated
1 tablespoon of parsley, finely chopped
(optional) 
1/2 pack our

Mexican chorizo brand beef chorizo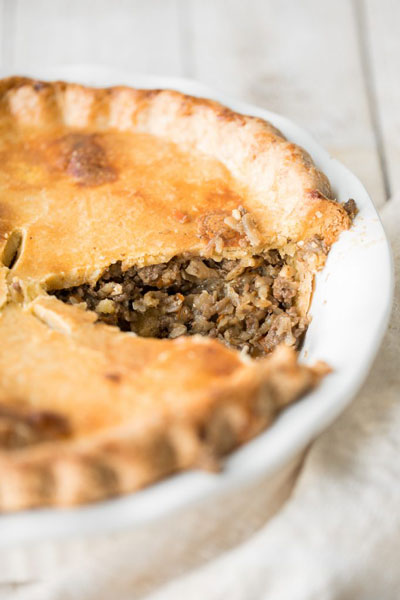 Directions
For the Meat Filling
Heat butter in a large skillet over medium-high heat until the butter starts to sizzle and shimmer.

 

Add onions, garlic, parsley, and ground beef. Stir well with a spatula and cook for 5-6 minutes or until meat browns and is no longer pink.

Add potatoes, carrots, Worcestershire sauce, dark soy sauce, salt, and pepper. Stir well to cook evenly for another 2-3 minutes. Stir in breadcrumbs until fully combined.

Remove the skillet from the heat and let the filling cool down completely for about an hour or overnight.
Assemble & Bake the Pie
Preheat the oven to 400°F.

Transfer the first dough disc onto a 9-inch pie pan and gently press down to form into the bottom pie crust.

 

Slowly transfer the meat filling from the skillet into the dough-lined pie pan and use a spatula to spread evenly across.

Carefully place the second dough disc over the filling as the top pie crust. Make sure it covers the pie pan entirely.

 

Gently press the edges of the top crust and the edges of the bottom crust together, and crimp with your fingers to seal.

 
Make 5-6 slits on the top pie crust for ventilation.

Gently brush the egg wash over the top crust and edges.

 

If your oven is not ready, store the assembled meat pie in the fridge to prevent the pie crust from disintegrating (the butter in the dough melts quickly at room temperature).

Bake the pie for 20 minutes until the edges of the pie crust turn golden brown. Then, reduce heat to 350°F, and bake for another 40 minutes until the rest of the top crust is golden brown.

Remove the pie pan from the oven and let it cool at room temperature for at least 1 hour. Serve warm.
Buy Beef Chorizo Online
!
Check out our chorizo shop and recipes. Send us a message online if you have any questions about our online ordering. Be sure to follow and tag us on Instagram and Facebook.