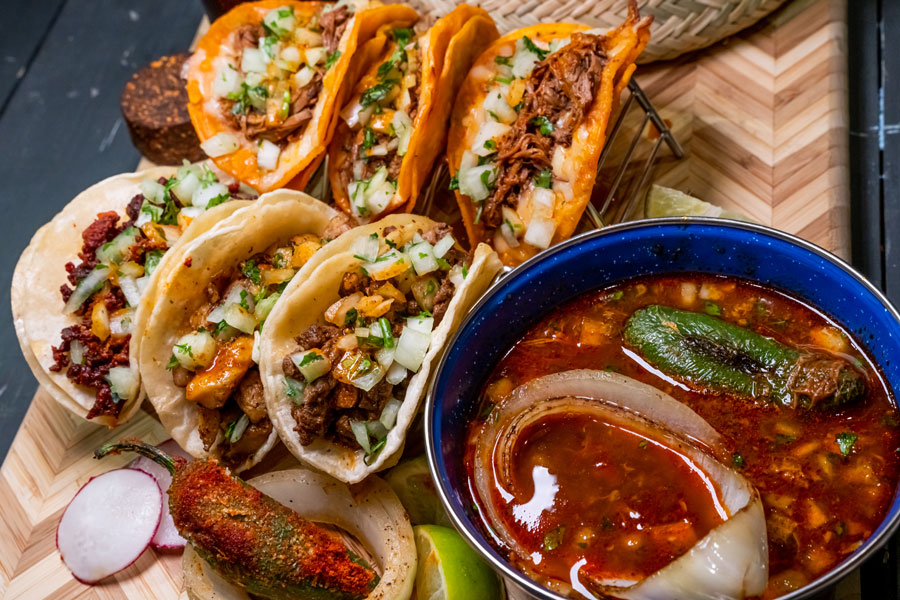 27 Sep

Try Steak and Mexican Chorizo Tacos for the Ultimate Lazy Comfort Food

Recipe courtesy of JustaPinch.com

Fall season is here, the weather will be changing soon, and caldo de res is on our minds. You know what else goes good on a cold morning? Melt-in-your-mouth morsels of popping flavor! We're talking Mexican chorizo, of course. Chorizo is the perfect addition to any meal including this steak and Mexican chorizo meal courtesy of Just A Pinch for this recipe.
Steak and Chorizo Tacos
2 C shredded lettuce
2 lb thinly sliced steak
1 dozen flour or corn tortillas
⅓ C cilantro, fresh (finely chopped)
2 sticks chorizo (mexican pork chorizo)
1 C diced tomatoes or pico de gallo
1 C queso fresco crumbled (Mexican cheese)
Directions
Slice your steak very thinly and season with garlic salt and pepper.
Heat frying pan over medium heat. When pan is hot add a couple of tablespoons of oil.

 

Add steak to the pan and cook until just browned. Remove from pan and drain on plate with a paper towel.
In the same pan, crumble and cook your pork chorizo over medium to high heat about 4-5 mins. Do not drain. Add your steak to the chorizo and it's juices.

 

Add chopped cilantro mix and cover.
Heat your tortillas on both sides in another frying pan or over an open flame on stove top.

 

Keep tortillas warm while cooking others, place cooked tortillas in a folded kitchen towel or tortilla warming bowl.
Top tacos with lettuce, cheese, and tomatoes or pico de gallo and enjoy!
Try our Flavorful Fajitas!
No tacos are complete without fajitas! Chorizo De San Manuel has a selection of succulent fajitas at insatiable prices. Choose from our from our marinated beef fajitas for a tender meal, our savory marinated chicken fajitas for a lean and juicy flavor.
Check Out Our Signature Chorizo Flavors!
At Chorizo De San Manuel, we love to make top-quality meat, as much as you love to eat it. Which is why we put extra care into quality checking our products and providing a variety of top Mexican chorizo flavors. Try next:
Order Chorizo Online and Try a New Recipe
Order chorizo online today! For more good cookin' ideas, try our collection of favorite recipes and mind blowing techniques. Follow us on Instagram and Facebook for even the latest this upcoming holiday season.