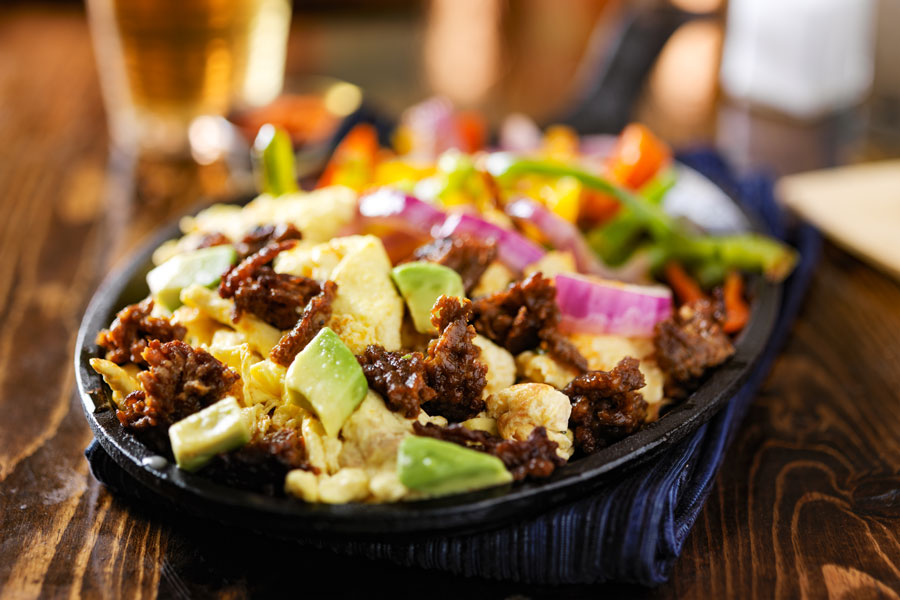 28 Feb

Eat Texas Brand Chorizo the Healthy Way – 5 Celebrity Chef Tips

Are you in desperate need of a meal that is really satisfying? Don't reach for the potato chips yet, instead get a nutrient-packed meal with our Texas brand chorizo. Our Mexican chorizo offers several meal-mindful benefits. Try these five healthy tips from celebrity chefs to boost the flavors on your plate.
Don't Skip Breakfast of Our Texas Brand Chorizo
Gordon Ramsay recommends starting every day with a healthy breakfast, like scrambled eggs or oatmeal. We recommend trying our chorizo hash with poached egg!
Spice Up Your Meals
Former Iron Chef contestant Akhtar Nawab, recommends choosing spices over heavy sauces to avoid excess calories, lower sodium intake for a flavorful meal. Add a dash of our All-Purpose Seasoning to your favorite dishes.
Plan Your Meals Ahead of Time
Take Home Chef and Crime Scene Kitchen's Curtis Stone, recommends planning and prepping your meals ahead of time to prevent eating junk or fast food.
Stock Your Kitchen with High-Quality Ingredients
Rachel Ray and Chef Devin Alexander from NBC's The Biggest Loser, recommend stocking up your kitchen with vegetables, whole grains, and lean proteins, such as our marinated inside skirt fajitas and marinated chicken fajitas. Additionally, Chef Stone recommends unprocessed foods, such as beans, rice, nuts, and grains.

Vegetables are Key
One of the most important factors to healthy eating is pairing each meal with vegetables. Chef Louis Maldonado, winner of Bravo's Last Chance Kitchen, recommends cooking your vegetables in creative ways.
Savor and Order Texas Brand Chorizo Online
Add a little pizzazz to your next meal, and order chorizo online. Send us a message if you have any questions about our chorizo shop. Tag us enjoying your meals on Facebook and Instagram! Use #bestchorizobrand and #chorizodesanmanuel!