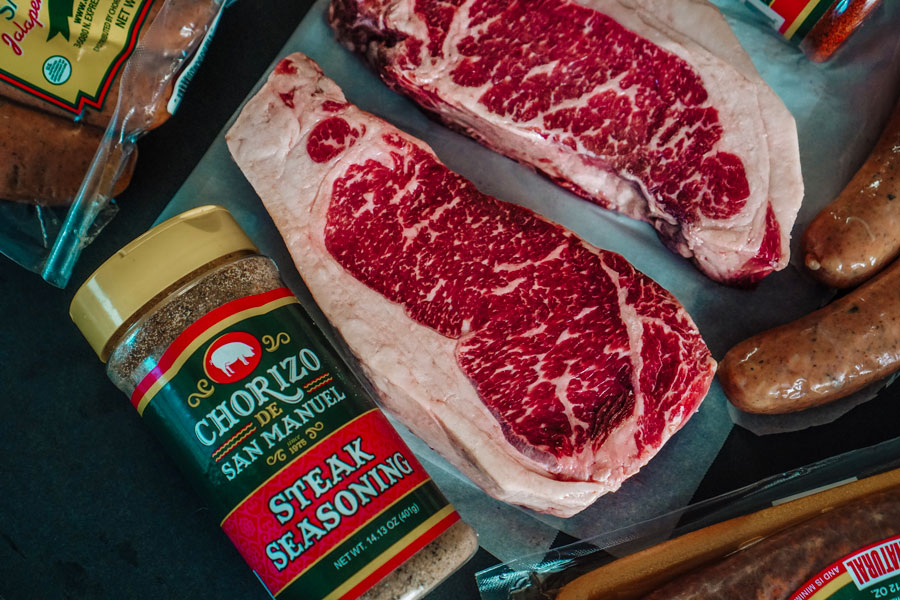 26 Oct Prime Steak Pairings
Although cooking your steak can be a process, one of the best ways to make a meal memorable are the yummy sides you pair it with. Make dinner exciting again with our prime steaks pairings with these five warm-sauce-loving sides.
Side Dishes For Your Prime Steak Pairings
Prime steaks are just some of the best, no matter what occasion! Whether it's a classic or a unique dish, you can try several sides that will awe you and your guests!
Try the following:
Potato Classics
Every steak has to go with potatoes, and you can't go wrong with a classic! Here are some potato classics that you can try with your prime steaks:
Mashed Potatoes
Candied Sweet Potatoes
Homemade French Fries
Rosemary Roasted Potatoes
Succulent Salads
A salad is a must if you're looking for alternative ways to feel less guilty about your meaty dish! Check out these refreshing salads to try with your prime steaks:
Classic Caesar salad
Strawberry spinach salad
Mediterranean quinoa salad
Beet salad with pecans and blue cheese
Wedge salad with creamy herb dressing
Remember the Veggies
Every meat dish is complete with some crisp and tasty veggies on the side! Adding veggies will surely add more depth and flavor to your prime steaks! : 
Glazed carrots
Bacon brussels sprouts
Oven-roasted asparagus 
Oven-roasted vegetable medley
Sautéed mushrooms with garlic butter
Pasta Favorites
There are lots of ways to eat steak, but adding pasta into the mix is okay! Here are some great and simple pasta dishes to eat with your prime steaks:
Mac & Cheese
Shrimp Scampi pasta
Alfredo or Bolognese 
Mushroom Stroganoff
Breads and Rolls
Remember that bread! Every meat dish is only close to being complete with bread or a roll on the side! Here are a few top choices to eat your prime steaks with:
Rye bread
Dinner rolls
No knead bread
Pull apart garlic bread
Try Something New
Choose from several steaks, chorizo, and sausage options to make your recipes stand out! If you're interested in finding more meat for your buck, consider ordering our delectable meat boxes packed with great deals and extraordinary selections of our hearts delivered directly to you! Try:
Order Steak Online
A prime steak is always your go-to for fine dining and exquisite dishes. Order steak online or get a good deal on a meat gift box to try one of many prime cuts of steak and try out these prime steak pairings. We highly recommend the El Patron box, El Presidente box or the ultimate Steak Box #4.