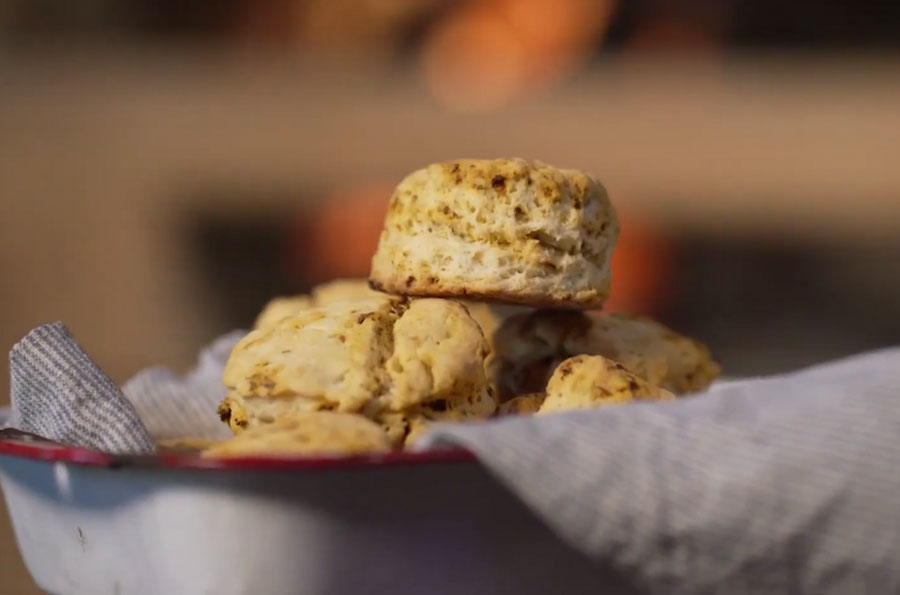 09 Sep Try These Savory Mexican Chorizo Biscuits!
When it comes to creating the perfect recipe, you have to ensure that you have the best quality ingredients. With Chorizo De San Manuel you always get the best, and these Mexican chorizo biscuits are the proof. Not only is it a staple breakfast food, but it can also be enjoyed as a meal with the right ingredients! 
Chef Melissa Guerra of Cooking with Kitchen Wrangler shares her favorite ways to enjoy chorizo biscuits as well as find different combinations to appease your appetite! 

Finding the Right Ingredients
Our Mexican chorizo biscuits, include a few kitchen staples:
Mexican Chorizo (any flavor)
Biscuits
Eggs (optional)
Cheese slices (optional)
The idea of quality when it comes to your recipe isn't supposed to be challenging, in fact, the majority of these kinds of ingredients can be found at your local grocery store!
Chorizo De San Manuel
Chorizo De San Manuel has been creating the finest quality Mexican chorizo at insatiable prices. At Chorizo De San Manuel, they understand that quality and flavor are essential when it comes to making their products. 
We offer 
Pork chorizo
Beef chorizo
Chicken chorizo
San luis chorizo
We are also located at several grocery stores, and Costco! Read more about our Chorizo flavors online!
Try Our Signature Sausage Flavors!
Chorizo biscuits makes for a great breakfast, but there are other foods you can include to pair with this amazing recipe! So what better way to combine these biscuits than with sausages? Chorizo De San Manuel has special sausage flavors that pair well with anything:
Stuffed Jalapeño and Cheese Sausage has a flavorful combo of spicy and filling jalapeño and cheese. Just a perfect amount of spiciness and flavor with oozing cheese emerging within each bite! 
Cilantro Sausage is just the perfect blend of meat and cilantro, balancing a refreshing herb-taste with a protein used in BBQs, dinners, and appetizers!
Order Chorizo Online 
Chorizo De San Manuel, has always dedicated their time to crafting high-quality meats. You can purchase them online now. Chorizo De San Manuel top-sellers include: 
Their tender beef chorizo
Signature crumbly pork chorizo 
Lean yet juicy chicken chorizo 
Order Chorizo Online Today
The holidays are coming up, and what better gift than our versatile Mexican chorizo to treat your guests. Purchase online today!
Want to find more recipes for your meal prep inspiration? Check out Facebook, Instagram and our recipes page!