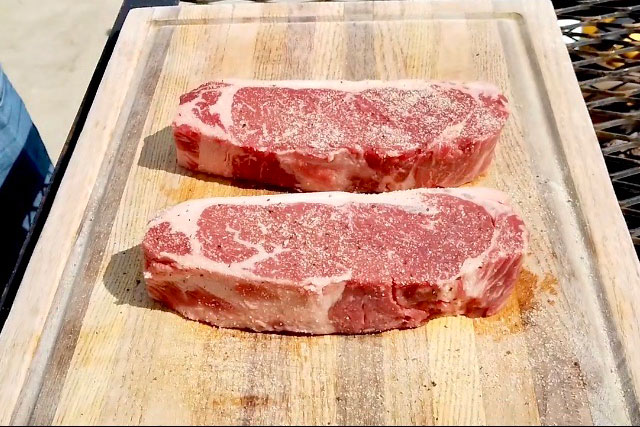 10 Sep

3 Prime New York Strip Steak Grilling Tips That Will Make You A Pro-Chef!

The scent and sound of the beast steaks as they hit the grill are two things you'll never forget and always recognize. Prime New York Strip Steaks are no exception! Creating the best steaks may seem easy to prepare and cook, but you'd be surprised at just how easy they are to ruin. That's why Chorizo de San Manuel wants to guide you on perfecting prime NY  strip! 
It Starts Prime Beef Products
At Chorizo de San Manuel, our prime steaks are of the highest quality because we only use the best cuts. In this piece, we'll be focusing on grilling a New York Strip steak which is carefully cut from the short loin of the cow. The first thing you'll want to do is let your steak sit for at least 20 minutes, giving you time to fire up the grill.       

Pick the Right Seasoning
When it comes to seasoning, simplicity is key. Adding too many spices will diminish the flavor of the meat, so the only seasoning we recommend is our own. Made with natural ingredients like salt, garlic, onion, and various spices, our seasoning will bring out the flavor of the meat. When you order prime new york strip steak from us, you can have it seasoned. That way, all you'll have to do is toss it on the grill.

Bobby Flay's Prime New York Strip Tip
According to chef Bobby Flay, let the steak cook for four to five minutes. Then, flip it and grill for an extra three to five minutes for a medium-rare condition. If you prefer, cook the steak for five to seven minutes for medium and eight to 10 minutes for medium-well. When it's done, add some extra flavor with one-fourth of a tablespoon of butter!
Order Steaks Online!
Once you've grilled the perfect steak, you'll not want anything less! The ideal steak starts by choosing the right meat, and Chorizo de San Manuel has the cut you're looking for! Contact us today to place an order!