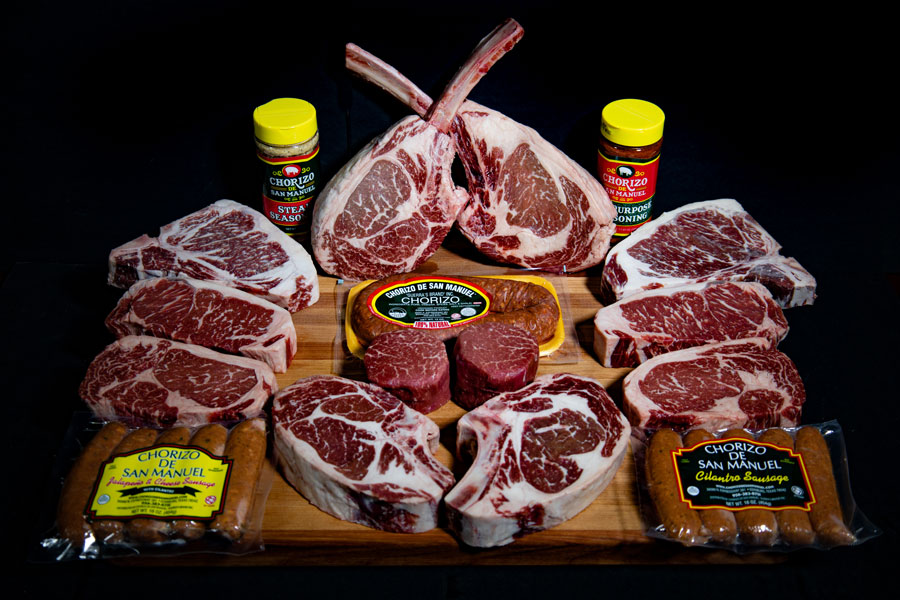 02 Dec

Gift our 8 Prime Steaks Gift Boxes This Holiday Season!

This holiday season, give a gift you can sink your teeth into. Buy Chorizo De San Manuel prime steaks gift boxes for the meat-lover in your life! Every box includes our famous seasonings and may include our popular sausages. Enjoy a variety of finger-licking prime steaks, fajitas, and chorizo in each gift box. Order your favorite by December 13th. 
El R

ey Prime Steaks Box

 

The El Rey Steak Box is the ultimate gift box for any master griller. This special box contains:

El Presidente
The El Presidente Steak Box includes two 24-ounce cowboy steaks. Read more about our cowboy bone-in ribeye steaks to enjoy at your next holiday party!
El Patron
The El Patron Steak Box features four thick 16-oz. ribeye steaks you can grill up for your next holiday part. Marinate your ribeye steaks with caper and sun-dried tomatoes.
Prime Steak Boxes No.4 and No.6
Do you have a loved one that knows everything about steaks? Steak Box #4 and Steak Box #6 features two 12-ounce KC Strip Steaks! Meanwhile, the #4 also includes:
Two 20 oz. T-Bone Steaks

Two 28 oz. Bacon-wrapped Tenderloin Steaks

A Package of 12-oz. Chorizo de San Manuel

 
The BBQ Boxes #7-8
While BBQ Box #7 is slightly larger, BBQ Box #8 includes four 12-ounce KC Strip Steaks alongside 2 pounds of marinated beef inside skirt fajitas! Enjoy three different kinds of steak within BBQ Box #7:
Ribeye

KC Strip Steaks

Bacon-wrapped Tenderloin
The Hunter's Gift Box
Grill up all the marinated chicken fajitas, seasoned baby back ribs, and pork chops you could want with The Hunter's Box! 
Order our Prime Steaks by December 13th
Order our gift boxes online and get our products shipped nationwide! Send us a message online if you have any further questions about our nationwide shipping!