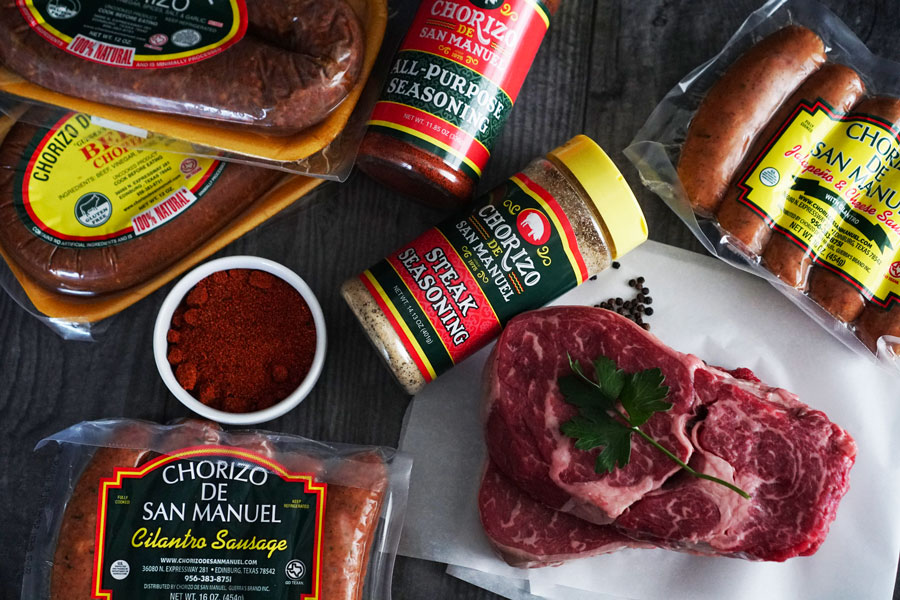 13 Jan 6 Fan-Worthy Chorizo De San Manuel Reviews
What makes Chorizo De San Manuel the best in south Texas? Is it our variety of choice and prime steaks? Or how about our crafted Mexican chorizo? Not only do we make the time to create the best chorizo based on our signature recipe, but we also take the time to craft relationships with our fans.

Our products are made with only the best kinds of flavors and spices for our products. We are dedicated to creating only the best flavors for all your food occasions! Dee is one of our customers who enjoy our chorizo flavors that go great with her morning breakfasts!
You can find other recipes that Dee mentioned using our signature chorizo here on our recipe page!
Check out more Chorizo De San Manuel Reviews!

Not only do we appreciate our customers, but we are delighted to see that all our customers enjoy what we love and what we put in our products! Sandy agrees that Chorizo De San Manuel has the best flavor and personality. She is impressed by the dedication and taste that goes into Chorizo De San Manuel's ribeye steak cuts, cilantro sausage, and beef fajitas.
Here at Chorizo De San Manuel, our products are the best in flavor and according to price and portions! Carl enjoys our chorizo because not only does he agree that the chorizo flavors are the best for taste, but he also appreciates the availability and affordability throughout all kinds of stores throughout the country.

Our focus on Chorizo de San Manuel is to put our time and dedication into our products and make them available to our customers for any occasion and convenience! Alda and her family love just how many great selections there are for meat packages. Not only does she love our products, but she is also content with the different available options to ship our products anywhere!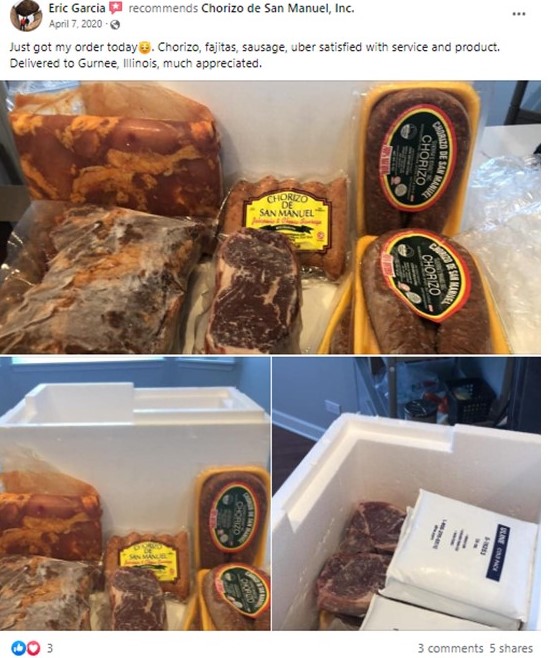 Whether online or in-store, we do our best to deliver our products wherever you are in the USA! With amazing deals online, you can get plenty of our products to your doorstep in time for your cravings! Eric appreciates the number of products available online and the number of products that come all together in a package for just the correct prices! Eric loves our chorizo, fajitas, and sausage and orders a unique selection to his doorstep with satisfaction!
See Chorizo De San Manuel's sausage flavors here!

Our products are excellent in flavor, with a fantastic chorizo recipe everyone loves and enjoys! You don't have to be a chorizo connoisseur to enjoy our chorizo, and Sarai agrees that our chorizo recipe is quite the delicacy compared to other chorizo flavors! She agrees that the quality of our chorizo is grand and has a beautiful flavor altogether.
Check out the different chorizo flavors available here!
Order Prime Steaks and Products Online 
Check out our Chorizo de San Manuel reviews and order prime steaks, and beef products, and purchase our signature meat gift boxes! From their exclusive meat packages to their fine selection of cut meats, there is nothing that Chorizo De San Manuel doesn't provide with care.