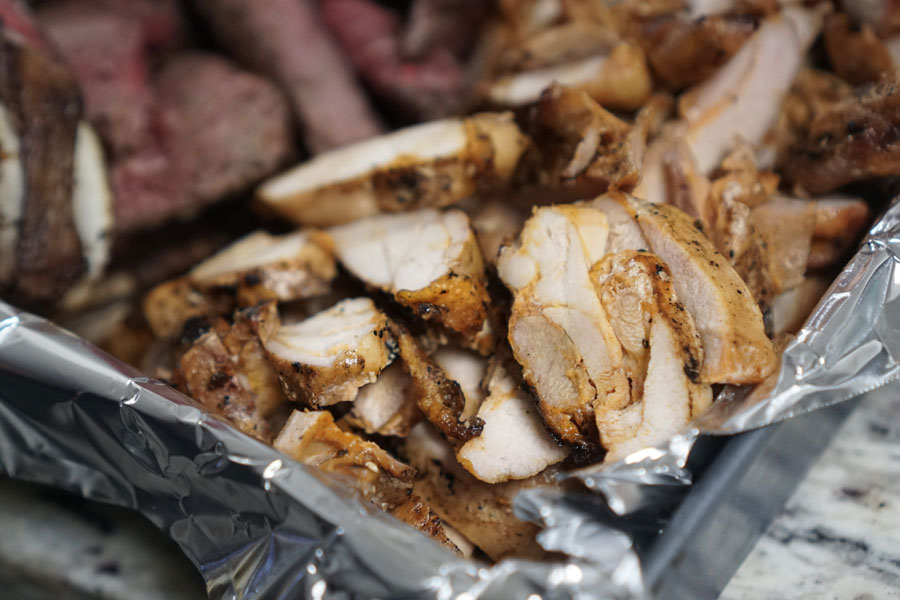 19 Sep 4 Tips to Mastering the Art of Marinated Fajitas
When it comes to savoring the delicious flavors of marinated fajitas, Chorizo De San Manuel knows a thing or two. Our passion for authentic Mexican cuisine extends beyond our renowned chorizo; it extends to helping you create mouthwatering dishes at home. In this blog, we're sharing four expert tips on marinating fajitas to perfection. 
Marinating Your Fajitas
Typical steak or chicken fajitas are prepared with fine spices, and juicy marinades. In order to attain juiciness and flavorful fajitas, you need to take the time to marinate your fajitas by: 
Marinating overnight
Marinating for 30 minutes – 1 hour
Marinating with different sauces and vegetables
Making Your Fajita Marinade
Did you know our fajitas already come marinated? Make sure to add two bags to your next order to have ready on hand. In the meantime, you'll have to make a mess in the kitchen, and make your own marinade. Here are some spices you can add to create the ultimate seasoning for your fajitas:
Cumin 
Paprika
Chili powder
Garlic powder
Onion powder
Cayenne pepper
Classic salt and pepper
How To Cook Marinated Fajitas
There are plenty of easy and simple ways to cook your marinated fajitas, but the most standard ways to cook fajitas are on an outdoor grill or by cooking on a cast iron skillet 
Once you marinate your skirt steak, then you'll need to add some vegetables for a subtle flavor profile. Try sautéing classics like:
Onions
Jalapeños
Mushrooms
Poblano peppers
Green and red bell peppers
Marinated Fajitas With Chorizo De San Manuel!
elevate your culinary skills and satisfy your taste buds with the irresistible taste of Chorizo De San Manuel marinated chicken fajitas and marinated beef fajitas.
Beef fajitas are available in 2.5 lb. bags
Chicken fajitas are available in 4 lb. bags 
Purchase a gift box to try marinated fajitas and your favorite steaks!
Check Out Our Other Products!
Get all the necessary groceries on your list with Chorizo De San Manuel! Find all the meats and steaks you need for your next meal online on our website and get fast shipping nationwide! Try our prime beef products, famous chorizo, or our steaks!
Order Marinated Fajitas Online!
At Chorizo De San Manuel, we're more than just a source for exceptional Mexican flavors; we're your partners in crafting memorable meals. Whether you're using our chorizo, marinated fajitas, or exploring other culinary delights, we're here to fuel your passion for delicious, authentic cuisine. Stay connected with us for more mouthwatering recipes and culinary inspiration.