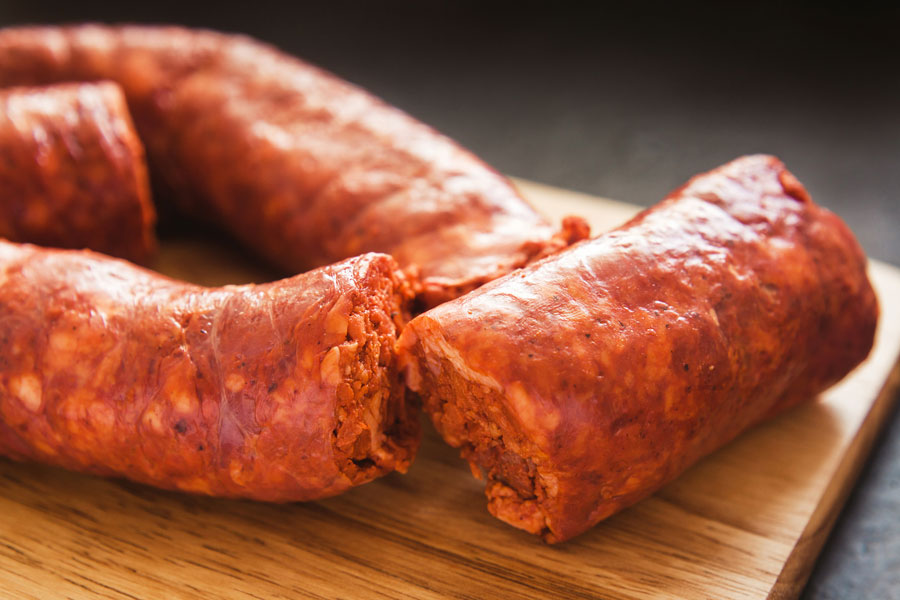 03 Aug Add Tasty Mexican Chorizo to this Shrimp, & Squash Skillet
Recipe and picture courtesy of The Mediterranean Dish.
If you're looking for a flavorful tasty Mexican chorizo dinner to surprise your guests, or need a large pan meal to feed your tribe after long crazy school days, look no further than this skillet with shrimp, chorizo, and squash! Simply substitute with our top Mexican chorizo brands – chicken chorizo, beef chorizo, pork chorizo, or San Luis chorizo. We are grateful to the talented chefs at Mediterranean Dish for this recipe.
Why Order Chorizo Online?
Options for chorizo really come down to two Spanish, and Mexican chorizo. We have crafted this signature recipe for decades and provide a soft and tender chorizo that just can't be beat. See for yourself, and order chorizo online today. We ship nationwide!
Total Time
30 minutes
Yield
8 servings
Ingredients
Salt and pepper
Juice of ½ lemon
Extra virgin olive oil
¾ tsp of ground cumin
½ tsp of garlic powder
¾ tsp of smoked paprika
Fresh parsley for garnish
½ medium red onion, sliced
1 summer squash, halved then sliced (half moons)
7 ounces of  chorizo (a little more if you like), sliced
1 small hot pepper such as jalapeño pepper, optional
1 lb of large shrimp or prawns, peeled and deveined; the tail can remain on
Directions
Pat shrimp dry and season with salt, pepper, and the remaining spices. Toss to make sure shrimp is well coated with the spice mixture. Set aside for now.
Heat a large cast-iron skillet over medium-high. Add Chorizo and brown on both sides (about 4 minutes or so as Chorizo is already cooked.) Remove Chorizo to a side plate for now.
In the same skillet, add a little extra virgin olive oil if needed (there should already be a bit of chorizo fat in the skillet). 
Add summer squash to the heated skillet. Sprinkle with a bit of salt and pepper and sear undisturbed for about 3 to 4 minutes on one side. Turn over and sear another 2 minutes on the other side until nicely colored. 
Transfer squash to the plate of Chorizo for now.
In the same skillet, now add a little extra virgin olive oil and tilt skillet to make sure the bottom is well coated. Be sure oil is well-heated until shimmering but not smoking. Now, add the shrimp (shrimp should sizzle upon contact.) 
Cook, frequently stirring, until shrimp flesh starts to turn a little pink but still not quite fully cooked (about 3 minutes or so depending on the size of the shrimp.) 
Return the chorizo and squash to the skillet. Toss to combine. Cook another 3 minutes or until shrimp turns entirely pink and tails turn a bright red.
Transfer the contents of the shrimp skillet to a large serving platter. Squeeze ½ lemon on top, and add sliced red onions and hot peppers (if using). Garnish with fresh parsley.
You can serve as tapas (appetizers) with your bread of choice. Or turn it into dinner with a side of rice or your favorite grain.
Check Out More Mexican Chorizo Recipes 
Back-to-school Season is here, so order meat in advance to meal prep for your family's busy schedule. Use these recipes for your next family dinner.
Order Mexican Chorizo Online Today!
Check out our chorizo products and experiment in the kitchen with our delicious recipes this summer! Be sure to send us a message online if you have any questions about our online ordering. Tag us enjoying your skillet shrimp on Instagram and Facebook.