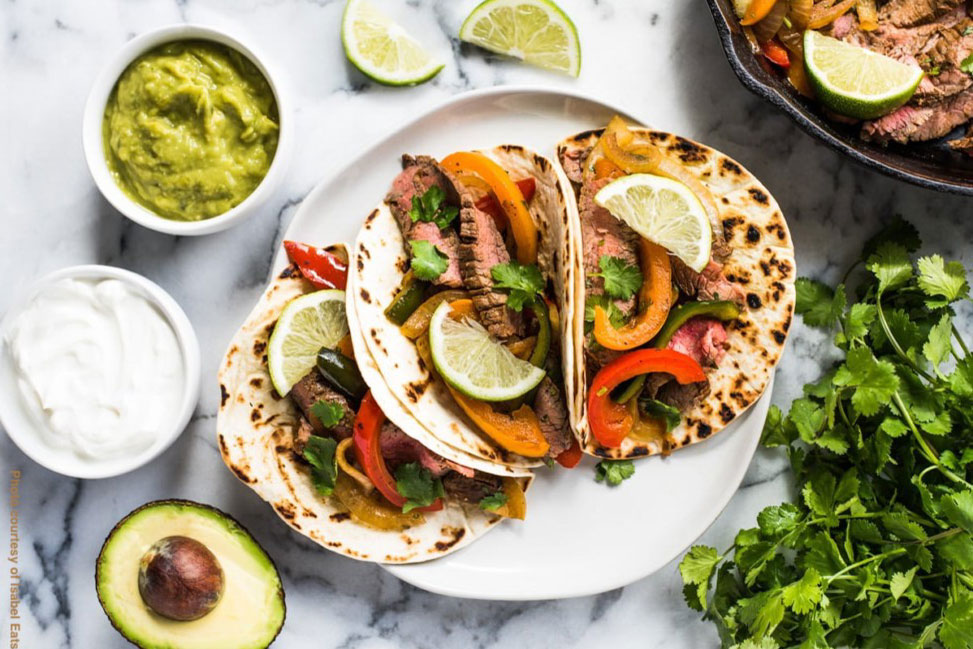 20 May

Try Our Succulent Beef Fajitas for Your Next Cookout!

Recipe and photo courtesy of IsabelEats.com.

Fajitas are a staple in Texas barbecue. We proudly offer beef and chicken fajitas in our special marinade, letting you skip the seasoning. For this week's recipe, we'll be sharing one by IsabelEats.com, a food blog that reimagines popular Mexican dishes with unique blends of spices and seasonings. For this dish, however, we'll be using our own marinated beef fajitas. Try it out! 
Preparation Time
30 minutes
Cooking Time
25 minutes 
Yields
8 servings

Ingredients
2½ tablespoons of cooking oil

 

2 medium sliced white onions
1 large poblano pepper sliced into strips
3 large bell peppers sliced into strips

 

1 pinch of salt

 
Optional toppings (choose of the following)
8 flour or corn tortillas
8 Lettuce cups

 

2 cups of sour cream

 

Freshly diced cilantro

Directions
In a large skillet over medium heat, add one tablespoon of the cooking oil.

 

Cut the fajitas into sections and add to the skillet.

 

These fajitas cook quickly, so 3 to 5 minutes on each side should be sufficient.

 

When done, wrap the fajitas in foil paper to keep them warm.

 

Add the remaining cooking oil to the skillet over medium heat.

 

Add the sliced onions, bell peppers, and poblano pepper. Cook for about 8 minutes or until the veggies are soft.

 

Slice the fajitas against the grain into thin slices.

 

Serve with the veggies in tortillas, on a salad, or in lettuce cups. Add the sour cream and cilantro if you'd like.

 

Enjoy!

 
After trying out this recipe, you'll know that Chorizo de San Manuel has the best beef fajitas in Texas! Be sure to also check out some other recipes made with our authentic Mexican chorizo. Contact us today to place an order for curbside service or to have our beef fajitas delivered to your front door with our nationwide shipping!