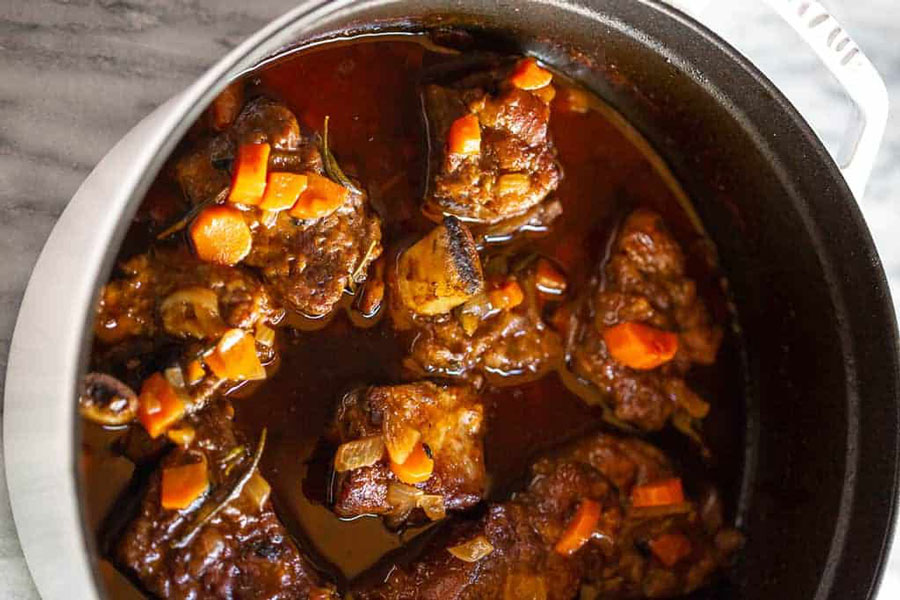 28 Apr Enjoy these Delightful Braise Short Ribs, and Our Prime beef!
Recipe and picture courtesy of Tastes Better From Scratch.
You and your dinner guests will not get enough of this delicious plate of braised short ribs over mashed potatoes. Be sure to use our high-quality beef short ribs. Order our prime beef products online and make sure to try this recipe thanks to the chefs from Tastes Better From Scratch.
Total Time
3 Hours
Yields
4 Servings
Ingredients
3 carrots, chopped
1 yellow onion, diced
8 whole beef short ribs
2 sprigs of fresh thyme
Salt and pepper to taste
3 tablespoons of olive oil
¼ cup of all-purpose flour
2 sprigs of fresh rosemary
2 tablespoons of tomato paste
2 ½ cups of low-sodium beef broth
1 cup of dry red wine (such as Cote du Rhone or Pinot Noir)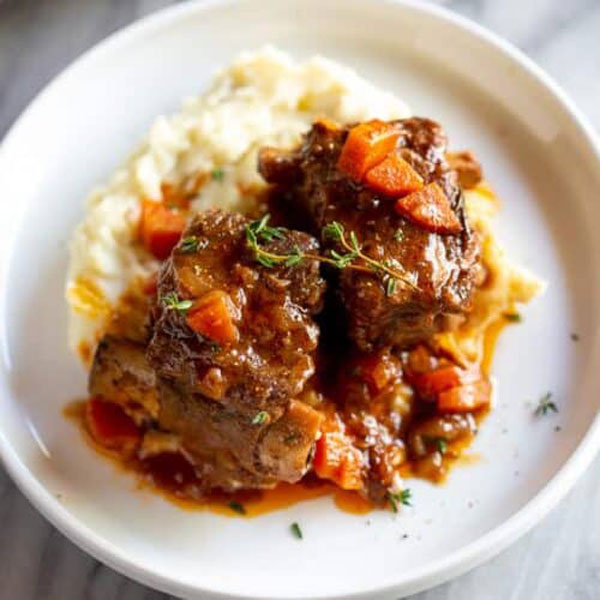 Directions
Preheat the oven to 350 degrees Fahrenheit.
In a large dutch oven or oven-safe pot with a lid, heat one tablespoon of oil over medium-high heat. 
Add onion and carrots and cook for a few minutes, stirring constantly, then remove veggies to a plate.
Season the ribs with salt and pepper and coat on all sides with flour. 
Add 2 more tablespoons of oil to the pot and turn the heat to high. 
Add ribs and brown on all sides, about 45 seconds per side. Remove to a plate.
Add the wine to deglaze the pan. Scrape the bottom of the pan to release any browned bites of flavor. 
Bring to a boil and cook for 2 minutes.
Add beef broth, salt, and freshly ground black pepper. Stir in tomato paste. Taste broth and add additional seasonings, if needed.
Add ribs, veggies, and (whole) sprigs of thyme and rosemary to the pot.
Cover with the lid and place into the oven. Cook at 350 degrees for 2 hours, then reduce heat to 325 degrees and cook for an additional 30 to 45 minutes. Ribs should be very tender, nearly falling off the bone.
Remove the pan from the oven and allow rest for 20 minutes, with the lid on, before serving. 
Skim off any fat that has risen to the top of the liquid, before serving.
Serve ribs over mashed potatoes with a spoonful of gravy from the pot.
Store leftover short ribs in a sealed container in the refrigerator for 3-4 days depending on the freshness of your ingredients.
Buy Prime Beef Online!
Check out our prime beef products and order them online. Be sure to send us a message if you have any questions about our online ordering. Tag us enjoying your braised beef short ribs on Instagram and Facebook!