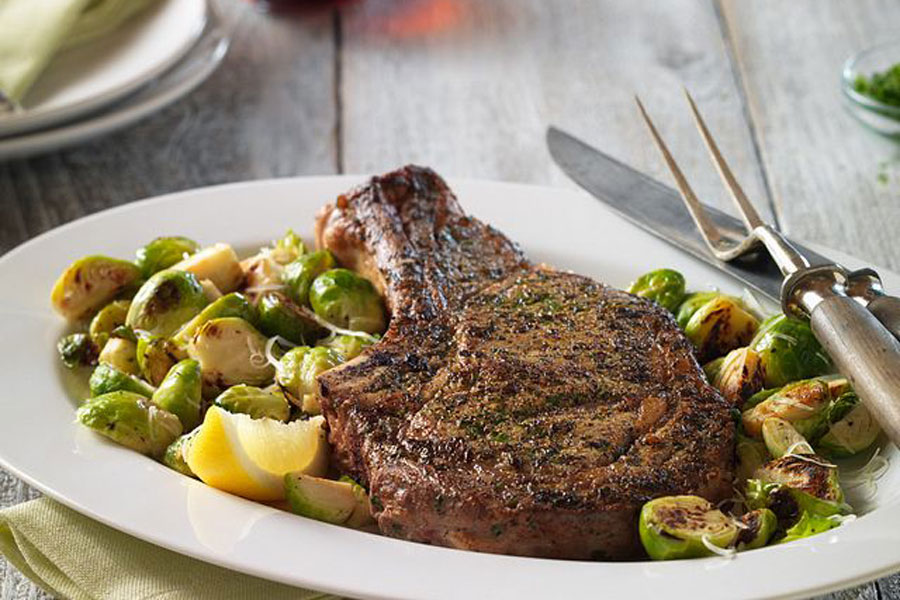 10 Feb

Surprise Your Valentine with a Cupid Ribeye Steak Dinner!

Recipe and picture courtesy of Beef – It's What's For Dinner.

Enjoy an intimate evening at home with your Valentine and a steak dinner for two. For this recipe, substitute with our cupid ribeye steak and all-purpose seasoning, available now for a limited time! Thank you to the chefs from Beef – It's What's For Dinner for this special recipe.
Total Time
35 Minutes
Yields
2 Servings
Ingredients
1 teaspoon of olive oil
½ teaspoon of pepper, divided
1 tablespoon of fresh lemon juice
¾ teaspoon of all-purpose seasoning
2 teaspoons of chopped fresh parsley
¼ cup of shredded Manchego cheese
¾ pound of Brussels sprouts, quartered
1 cupid ribeye steak, cut 1 inch thick (about 12 to 14 ounces)
Directions
Toss Brussels sprouts with oil and ¼ teaspoon of pepper and set aside.
Combine parsley, all-purpose seasoning, and remaining ¼ teaspoon of pepper and press evenly onto the cupid ribeye steak.
Heat a large nonstick skillet over medium heat until hot.
Place the cupid ribeye steak in the skillet and place the Brussels sprouts around the steak.
Cook the steak for 14 to 16 minutes for medium-rare (145°F) to medium (160°F), occasionally turning steak and stirring sprouts.
Remove the steak from the skillet. Keep warm.
Cover the skillet and continue cooking the sprouts for 3 to 5 minutes or until crisp-tender.
Add cheese and lemon juice to the skillet. Toss to coat. Season with salt, as desired.
Carve steak into slices and serve with Brussels sprouts.
Order Ribeye Steak Online Today!
We hope you enjoy this recipe! We are also offering The Cupid Box for a limited time only. If you have any questions about ordering our products, send us a message online. Be sure to snap a photo and tag us on Facebook, Twitter, and Instagram!