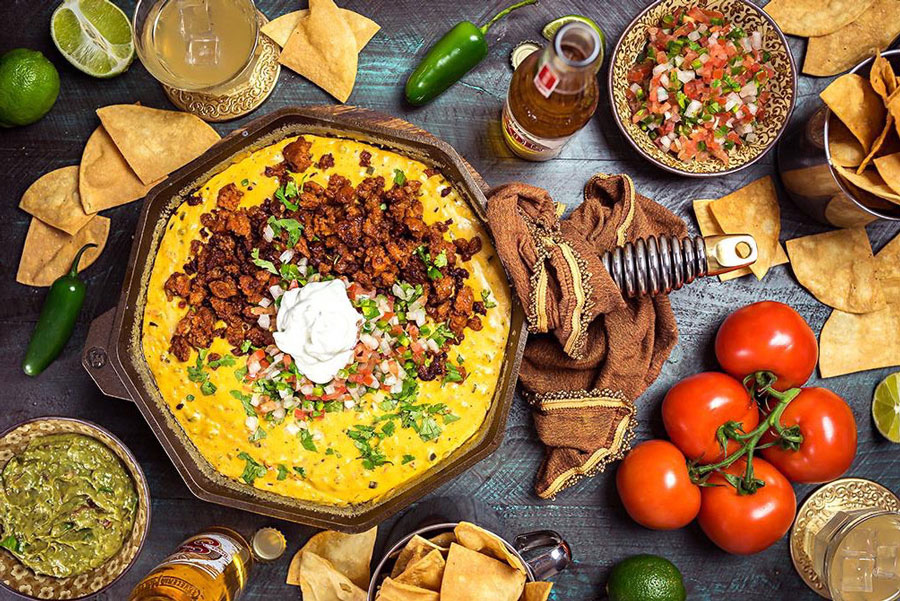 26 Aug 3 Mexican Chorizo Recipes Perfect for Hosting the Holidays
Need filling but cost-effective recipes for the holidays this year? Bookmark and share this blog with the hostess or host who loves to go all out for the holidays. You can order Mexican chorizo and gift boxes online now. 
Chicken Choriqueso Recipe
Read original recipe post here. 
Perfect as an appetizer or a gluttonous meal for one-person chicken choriqueso is a recipe made to add spice to the holidays.
Ingredients include:
Kosher salt
Lime juice
Garlic 
Chicken chorizo 
Cornstarch
Evaporated milk
Sour cream
Poblano chile
Jalapeños
Tomatoes
Onion
Fresh cilantro
Cheddar cheese
Directions
In a large skillet over medium-high heat, cook the chorizo, breaking it as it cooks. Once it's cooked, transfer the chorizo to a bowl.
With the fat left on the pan, add half of the onion, half of the jalapeños, all of the poblano, and all of the garlic to the skillet over medium heat. Cook until very soft, stir occasionally, about 10 mins. Stir in half of the tomatoes, season with salt, and cook until the tomato juices evaporate, about 6-8 more mins.
Combine the remaining tomatoes, onions, and jalapeños in a small bowl. Add the chopped cilantro and lime juice, season with salt to taste, then mix well and set aside.
Pour the evaporated milk into the skillet, and let warm.
Toss the grated cheese in a large bowl with the cornstarch. Add the cheese, one handful at a time to the skillet, stirring as you go.
Continue to stir until fully melted and thickened, to check your desired thickness use a spoon and if it coats the back of a spoon, it's ready. Remove from heat.
Top with crumbled chicken chorizo, pico de gallo, additional cilantro, and sour cream. Serve and enjoy! 
Cheesy Chorizo Lasagna
Read original recipe post here.
Making a meal for 20+ guests, prepare a couple of lasagna dishes ahead of time and throw into the oven the day of your holiday party. 
Ingredients include:
Garlic 
Carrot
Onion 
Celery
Pork
Veal
Olive oil
Beef stock
Red wine
Rosemary 
Tomato paste
Ardmona diced tomatoes
Any of our Mexican chorizo flavors
Directions:
Place a small amount of recipe ragout in the base of a large oven-proof frying pan.
Add three cooked lasagne pasta sheets.
Pour over the remaining ragout.
Stir the mascarpone through the ragout, and push the remaining lasagne sheets into the sauce.
Top off with mozzarella.
Cover the pan and cook over medium-low heat for about 12 minutes or until the pasta is al dente.
Heat a grill to high. Scatter the pasta with parmesan and grill for 1-2 minutes or until golden.
Serve with basil.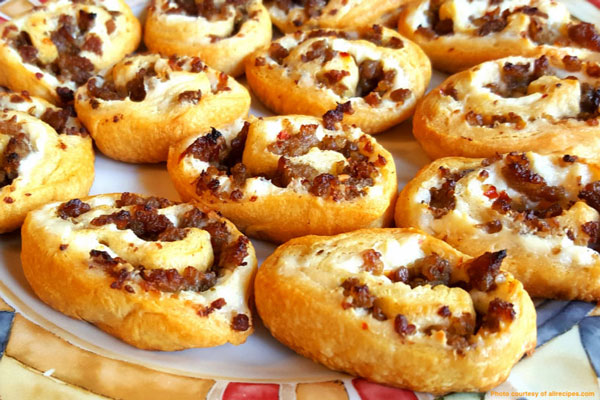 Chorizo Cream Cheese Pinwheels
Recipe and image courtesy of AllRecipes.com.
Read original recipe post here.
Use this recipe to put an appetizer that is both hassle-free and colorful to add to your dinner table. 
Ingredients include:
Flour
Cream cheese  
Our pork chorizo
Parchment paper
Refrigerated crescent rolls 
Directions:
Cook the chorizo over medium heat for 5 to 8 minutes and drain the grease.
On your counter or cutting board spread some flour and spread the crescent rolls from one package. 
Add a layer of cream cheese but leave a half-inch margin all around.
Sprinkle half of the cooked chorizo evenly over the cream cheese and roll up the dough into a log. 
Wrap the log in parchment paper and repeat the process for the second pack of dough. 
Refrigerate for one hour.
Preheat the oven to 375°F.
Unwrap the parchment paper, cut into half-inch slices, and place on a baking sheet.
Bake for 12 to 15 minutes or until the pinwheels are golden brown. 
Let them cool and enjoy!
Order Mexican Chorizo Online
Order chorizo online. Chorizo De San Manuel provides the taste of spicy and savory chorizo to customers for decades. Chorizo De Manuel makes different styles of chorizo for different cooking purposes:
Pork chorizo
Beef chorizo
San Luis chorizo
Chicken chorizo
Purchase online and share your flavor-ite recipes on our Facebook and Instagram! 
Check Out More Mexican Chorizo Recipes!
For more amazing recipes, be sure to check out more chorizo recipes online, and on our social media!