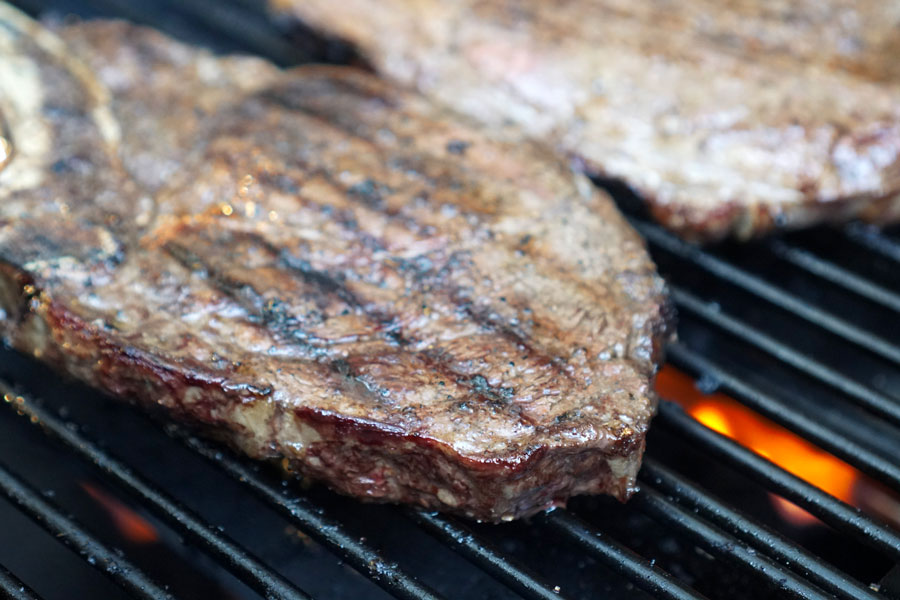 16 Nov 4 Top Charcoal Types for Grilling Prime Ribeye Steaks
Grilling your prime ribeye steaks on a charcoal grill is easy and fun once you get your supplies for the perfect prime steak, but did you know different types of charcoals can affect your steak taste? 
Check out the different charcoals and the different effects it has on your meats! 
Charcoal Types
Charcoal grills are essentially one of the common ways to barbeque during family cookouts or just a casual grill party with close friends and family. However, there are different types of charcoals that differ and affect your meats and food depending on which ones you pick.
Lump charcoal
Charcoal briquettes
Binchotan charcoal
Coconut shell charcoal 
Lump Charcoal
Lump charcoal is usually the go-to for a typical grill or cookout. Lump charcoal lights up pretty quickly, and can give your steaks a nice medium or medium rare effect once you cook your steaks. Grilling your steaks and meats on these lump charcoal will give possible smokey flavors such as:
Charcoal Briquettes
Charcoal briquettes are also another common type of generic charcoal grilling. Briquettes create a mild smokey flavor to the meat due to its slow-burning process. Although you can use these type of charcoal, the best time to apply your meats on the grill is when the charcoal turns into a more ashy consistency, so that your steaks and foods can get that smokey flavor as you cook them on the grill. 
Binchotan Charcoal
This type of charcoal is known as Japanese native charcoal from what's called the Ubame oak tree. This oriental charcoal may seem strange but the charcoal is well worth investing since this type of charcoal gives great flavors to the foods. Although this charcoal doesn't emit smoke, your foods will not lack any form of flavor once you cook with it, giving a nice smokey and juicy finish. 
Coconut Shell Charcoal
Coconut shell charcoal is a type of coal that is a slow-burning charcoal. This type is another alternative to briquettes but will cook your foods more slowly in an effort to give them a nice more endearing smokey flavor. 
Always Check Food Reaches a Safe Temperature
It's always important to keep in mind of your steak and how well it's cooking. For example, it's best to always check your food using a thermometer in order to determine the desired doneness. If you're unfamiliar with the temperatures, here are a few temperatures to keep in mind:
Rare  – 125 °F
Well done – 160 °F
Beef burgers – 160 °F
Pork – 145 °F
Chicken – 165 °F
Order Prime Ribeye Steaks Online
Choose from several options of steaks, chorizo, and sausages in order to make your recipes stand out! If you're interested in finding more meats for your buck, then consider ordering our delectable gift boxes that are packed with great deals and great selections delivered directly to you! You can find lots of prepared meats on our website, such as:
Ribeye steaks
Tomahawk steaks
Hamburger meat
Center Cut Tenderloin
Get all the necessities on your grocery list with Chorizo De San Manuel! Find all the meats and prime ribeye steaks you need for your next meal online on our website and get fast shipping to get your steaks directly to your kitchen!