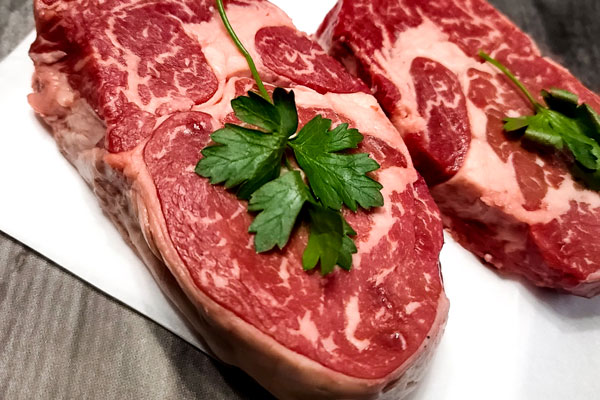 21 Jan 5 Steps to Grill Prime Ribeye on a Cast-Iron Skillet!
If the weather isn't exactly perfect for outdoor grilling, don't fret because you can still have one of our juicy prime ribeye steaks! A ribeye on a cast-iron grill is an excellent alternative to outdoor grilling because the cast-iron will evenly retain heat well. Your perfect steak is a cast-iron skillet away, and Chorizo de San Manuel wants to help you cook the perfect dish!

What Will You Need?

The Instructions
Be sure your prime ribeye steak is at room temperature for at least 20 minutes.
Heat your skillet over a medium to high flame.
Lightly sprinkle salt, pepper, and our steak seasoning on both sides of your ribeye.
Coat the skillet with vegetable oil and begin cooking.
Let each side cook until it reaches your desired doneness.
For a rare steak, cook for six to 10 minutes so the center is bright red. For a medium-rare steak, cook for eight to 13 minutes for a pink center and slightly brown surface. For a medium steak, sear for nine to 14 minutes for a light pink center and tan/brown surface. For a medium-well steak, grill for 11 to 16 minutes for a light-colored center and brown surface. Once your ribeye is done, let it sit for a minute and then serve!
Order Your Prime Ribeye Steak Online Today!
At Chorizo de San Manuel, we only use top-tier cuts. With local pickup and nationwide shipping, we can help make any night a steak night! Grill your next ribeye on a cast-iron skillet and let us know how delicious it is by snapping a photo and tagging us on Facebook, Twitter, and Instagram. Contact us today to order your steak!