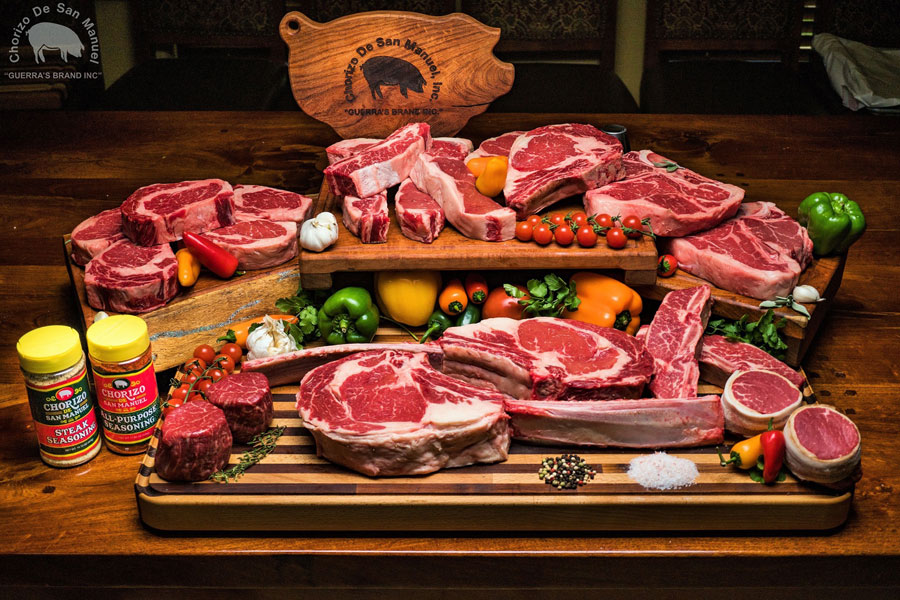 05 Jul

10 Favorite Prime Steaks for BBQ Season

Looking for the best of the best meats for your next barbecue? Find out more about the best meats and different selections brought to you by Chorizo de San Manuel! Here you'll find recommendations and prime steaks for BBQ season.
Try Our Gift Boxes with the Finest Selections!
Our meat boxes are just the thing you'd need to make your party, gathering, or summer barbeque a success! Not only do they come with the best meat cuts, but our meat boxes are also convenient with : 
Fast Shipping
Prepared Meat cuts

 

Ready to go sausages
Flavorful seasonings
If you need to find the perfect gift and the best way to save time and money, consider our delectable meat gift boxes for your next barbecue! You can choose from different types of gift boxes that are ready to ship and ready to grill, some examples are : 
Caveman Box – packed with our thick signature cuts along with our sausages, chorizo, and seasonings
El Presidente – packed with most of our best cuts that are prepared with care along with our signature sausages, chorizo, and seasonings
BBQ Box #7 – packed with a few of our best cuts along with our recommended meat choices for a simple and eloquent barbeque along with our sausages, chorizo, and seasonings
Buy Our Signature Steaks!
Our steaks are always prepared with the utmost care and handled by the best butchers within our facility! Get amazing and delicious cuts that can be delivered directly to your door in a flash! You can buy amazing cuts such as the : 
Center Cut Tenderloin
Ribeye Steak
Porterhouse Steak
Get Your Grill on with These Flavorful Sausages!
No barbeque is complete without sausages! Prepare for your barbeque with our amazing and flavorful sausages that best complement your meats! You can get our signature sausages such as : 
Stuffed Jalapeño and Cheese Sausage
Cilantro Sausage
Get Barbeque Necessities like Marinated Fajitas!
At Chorizo de San Manuel, we sell only the best in meats, and our marinades are always made with the best ingredients that are ready to go on your grill! We understand just how much time and effort is put into making the best fajitas, so we have our exclusive recipe of marinades that will balance the flavors that are included in the fajita. We typically serve : 
Beef marinated fajitas
Chicken marinated fajitas
Try Our Fine Selection of Beef!
Chorizo De San Manuel is dedicated to providing the best of the best in meats in all of South Texas! More-so, we are dedicated to giving only the best precision cuts and have quality beef ready to grill and ready to ship! You can choose from our selection of beef products such as : 
Beef Short Ribs
Prime Brisket
Ground Beef
Prime Steaks for BBQ Season!
If you want to know more about our products, check out the Chorizo De San Manuel website for more information on your favorite meat cuts, chorizo, and other items available now on our website! Check out all kinds of recipes on our Instagram and on the Chorizo De Manuel website here!