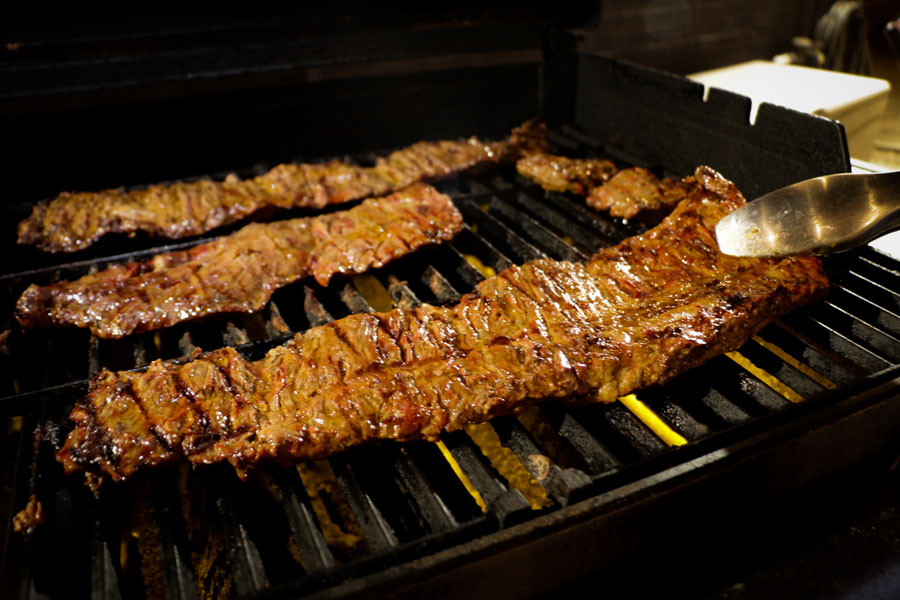 16 Aug

Order our 2 Fajitas Online to Celebrate National Fajita Day – August 18th

August 18th is National Fajita Day! Celebrate and order  fajitas online from Chorizo De San Manuel? We know that they taste delicious, and for this piece, we thought about doing something a bit differently. Let's talk about the history of the fajita. It's both interesting and varied, so read on!
How it Began
In the 1930s, cows were butchered to feed ranch hands, and everything left over was given to Mexican vaqueros as part of their pay. Barbacoa, Menudo, and fajitas all have roots in this practice.
Fajitas stayed in relative obscurity until two people helped popularize the meat. Sonny Falcon, manager at an Austin, Texas meat market called Guajardo's Cash Grocery, began selling the affordable cuts of meat to his Hispanic customers. But it was at a "Diez y Sies" city celebration in September 1969 in Kyle, Texas where Falcon introduced fajita tacos to the public. He went on to operate concession stands at rodeos, outdoor fairs, and city festivals across the state, making fajita tacos popular until he opened the first Tex-Mex restaurant in 1980. This was way before you could order fajitas online!
Also, in 1969, Otilia Garza took over the Round-Up Restaurant in Pharr, Texas, and added fajitas to the menu. Garza prepared and served the fajitas the way she was taught at her mother's restaurant in Reynosa, Mexico. At the Round-Up, fajitas were served on a sizzling platter with guacamole, pico de gallo, onions, tomatoes, peppers, cilantro, and flour tortillas.
Order Fajitas Online Today!
Other than our delicious fajitas, can also find the best sausage and authentic Mexican chorizo in grocery stores near you. Contact us to place your pickup order today or have it delivered to your door with our nationwide shipping!