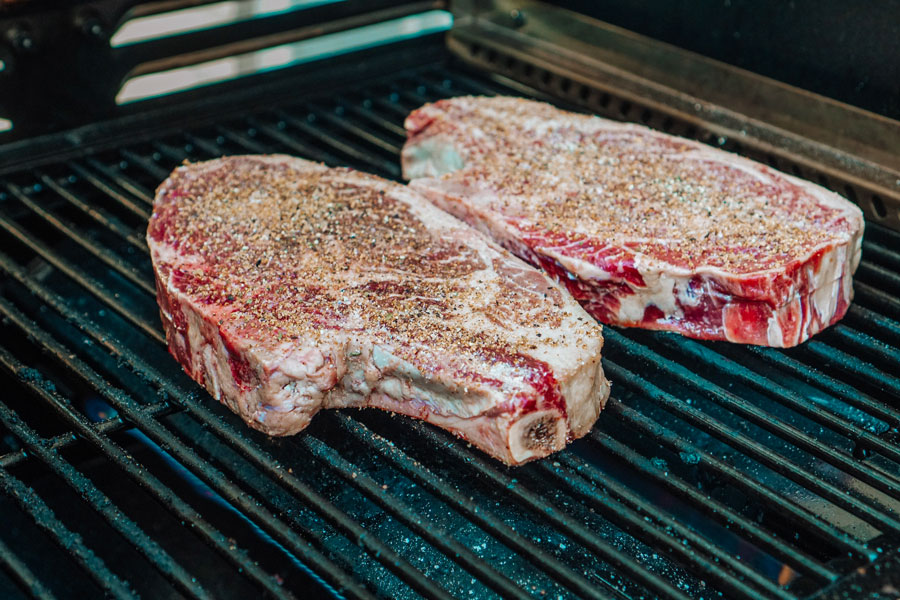 06 Nov Grill the Best Steaks: Tips to Master Winter Grilling Techniques
Winter seasons are approaching but the grill won't stop for no one! This means all the more time for grilling and spending time with friends and family during the holidays! Check out these grilling techniques and tricks for grilling the best steaks for your next cookout during the cold winter seasons. 
Grilling Tips For The Winter Seasons
The cold weather can affect grilling in numerous ways. Grilling in the winter can be a challenge if you don't maintain your grill properly. Different types of grills will perform differently depending on cold temperatures, however, when using a grill it is important to maintain cooking temperatures and monitor your grill functions such as the : 
Fuel 
Charcoal
Outer walls 
Here are a few things to take note of when grilling out in the cold winter seasons! 
Winterize Your Grill
You can winterize any grill with the proper steps. In an effort to keep your grill fully functional and at its best, there are a few things to keep in mind. In this case, here are a few things to keep your grill functional and winterized : 
Keep your grill oiled and cleaned
Before using your grill, check the hoses for any cracks
The flame should burn blue not yellow, yellow indicates clogged burners and should be checked or cleaned
Check the lid and knobs that aren't stuck or frozen shut
Move the grill to a warmer place to defrost if frozen
Allow extra time to preheat 
Much like a car engine, you should ensure that your grill is preheated and warmed up before placing any food into your grill. A grill typically needs to be preheated for a bout 15 minutes or may take around 30 minutes depending on the cold temperatures.
Declare the grill a snow-free zone
Depending on where you use your grill, it's essential to never let snow accumulate on or around it. Letting snow on your grill will create rust, so in an effort to prevent that from happening, take a look at these steps : 
Clear any remaining snow or rain away and dry all surfaces 
A dry grill is better for reaching and maintaining cooking temperatures, so take a moment to heat up your grill and light up charcoals or wood to test your grill
Extra fuel required
When it comes to grilling in colder weather, another thing you should take into account is using more fuel or charcoal to ensure the heating temperatures. Therefore, make sure to have plenty of fuel and supplies in order to avoid running out of resources during the grilling process.
Factor cooking time into food choices
When grilling in colder temperatures, consider foods that will grill up faster so you won't need to be out in the cold so often. Avoid grilling anything that requires a lot of attention, making it longer to cook your food. Other factors include : 
Opening your lid will risk losing the heat and exposing your meats to colder air
Foods that require flipping or basting should be reserved for warmer weather
Use an Instant-read Meat Thermometer to Check for a Safe and Desired Temperature
Heating up your grill is the basic step of the basics. The benefit of having a hot grill is so that it will prevent the food from sticking. Although it is recommended to heat up your grill, be sure to let your grill heat up for about 10-15 minutes before setting any food on top of it. Here are some temperatures to keep in mind when you cook your food : 
Low heat – 250 to 300 degrees Fahrenheit 
Medium heat – 300 to 350 degrees Fahrenheit
Medium high heat – 350-400 degrees Fahrenheit
High heat – 400-450 degrees Fahrenheit
Ensuring your foods are within the proper temperatures is extremely important. So it's best to always check your food using a thermometer in order to determine the desired doneness. If you're unfamiliar with the temperatures, here are a few temperatures to keep in mind : 
Rare beef – 125 degrees
Well done beef – 160 degrees
Ground beef burgers – 160 degrees
Pork – 145 degrees
Chicken – 165 degrees
Get All Your Meats At Our Website!
Get all the necessities on your grocery list with Chorizo De San Manuel! Find all the meats and prime steaks you need for your next meal online on our website and get fast shipping to get your steaks directly to your kitchen! Choose from several options of steaks, chorizo, and sausages in order to make your recipes stand out! If you're interested in finding more meats for your buck, then consider ordering our delectable meat boxes that are packed with great deals and great selections of our meats delivered directly to you! You can find lots of prepared meats on our website, such as : 
Brisket
Ground beef
Ribeye steaks
Sirloin steaks
Hamburger meat
Find the Best Steaks and Chorizo On Our Website!
If you want to know more about our products, check out the Chorizo De San Manuel website for more information on your favorite meat cuts, chorizo, and other items available now on our website! Check out all kinds of recipes on our Instagram and on the Chorizo De Manuel website here!