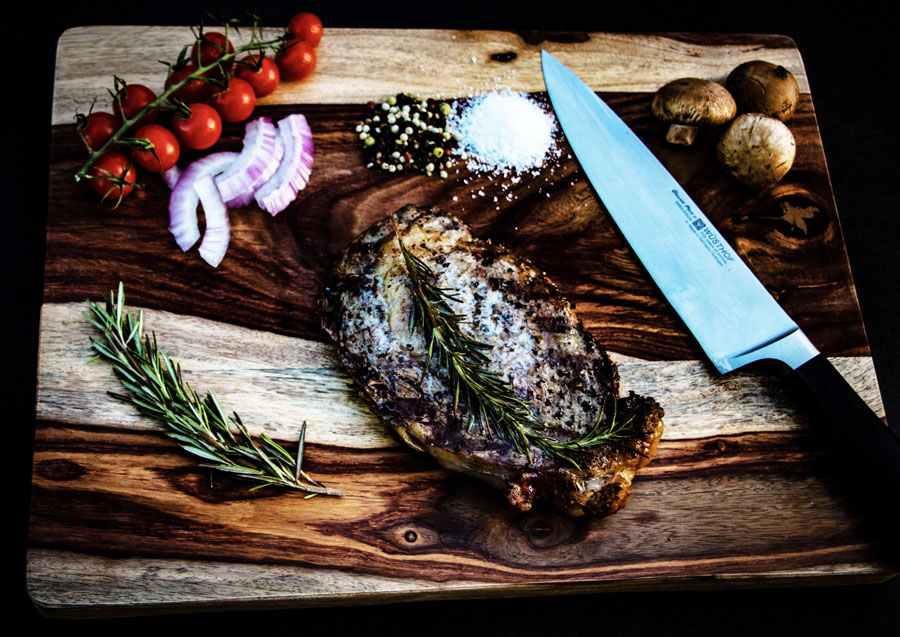 12 Jul

10 FAQs on Cooking the Best Prime Steaks

Need advice on how to cook your prime steaks to perfection? Look no more than the experts on the best prime steaks at Chorizo De San Manuel. We are dedicated to providing the best steaks, recipes, and tips on cooking the best prime steaks!

Check out these ten excellent tips on making your steaks look and taste better just in time for summer!
Should you Brush the Steak with Olive Oil Before Grilling?
Steaks typically only need a little on them to make them taste or look great. Although if you are considering it, just before grilling the steak, it is recommended to score your steaks and lightly brush on both sides with olive oil or butter and sprinkle with salt and pepper.
What Sides Go Well with Prime Steak and Red Wine Sauce?
Knowing what sides go with your prime steaks can bring out more flavors from your palate. Entertain guests with gourmet flavors and by mixing prime steaks with red wine sauces and these sides that will highlight the meal:
● Risotto
● Creamy polenta
● Roasted potatoes
● Mashed potatoes
● Sautéed or grilled vegetables
● Simple green salad with vinaigrette dressing
What is the Best Way to Cook A NY Strip Steak in the Kitchen?
Although grilling your steak is the option most people choose, it's only available for those with a grill. A few surefire ways to cook a NY strip steak is by cooking it on your stove using a frying pan, then finishing it in the oven!
What is the 4-3-2 Technique of Cooking a Steak?
This method is one of the quickest methods for cooking your steak. It's a technique close to replicating a chargrilled steak or mimicking a cooked steak from an outdoor grill. Some steps to follow when using this method are:
● Preheat a heavy skillet for a long time over high heat. Don't add any oil.
● Add the steak, press flat, and cook for four minutes without moving.
● Flip and cook for three more minutes.
● Remove from the pan and rest for two minutes before serving.
How High Should a Fire Be to Cooking the best Prime Steaks?
Once you preheat your pan on the stove, the optimal flame size to cook your steak is medium-high. This will allow your steak to cook for 3-5 minutes on each side before being served.
Do you put Garlic on a Ribeye Steak Before Cooking it?
If you add spices or ingredients to your steaks, adding them just before cooking them is best. The types of spices that are recommended before cooking your steaks are:
● Salt
● Garlic
● Thyme
● Black pepper
● Our signature Steak or All-Purpose Seasoning
How Do I Cook a Ribeye Medium Rare?
To cook the best prime steak ribeye medium rare, you must:
First, sear the steak in a skillet pan for about 12-16 minutes
Depending on the thickness, continue to let it rest or lower your pan so it cooks longer.
Then check your steak to see if it reaches an internal temperature of 130 degrees Fahrenheit.
Cooking the best prime steaks in a Cast Iron Pan?
To cook a cast iron butter-basted steak, you must spoon melted butter over your prime steaks while cooking at medium heat. Ignore the loud sizzle, and stay consistent with spooning the savory butter repeatedly, and soon your prime steak will change its color. One of the easiest ways to baste is by:
Tilting your pan slightly.
Let the butter collect near the edge.
Then use a spoon to pour it over the top of the steak.
How can I Cook Perfect Medium Rare Steak in a Pan?
To cook the perfect medium rare steak on your stove top using a pan, sear your steaks for about 3 minutes. Then, cook on each side for 3-4 minutes until medium rare. There should also be a small pink middle, with a thin brown line on the top and bottom.
How do you Keep Prime Steaks from Drying Out?
There are several ways to keep your steaks nice and moist while cooking them on the grill. Try:
● Marinate your steaks before grilling.
● Dry rubbing your steaks with salt before grilling.
● Let the meat rest once you get them out of the grill.
● Leave your meat at room temperature before grilling.
● Know your cooking times for your steaks, and try not to overcook them.
What is the Best Gift for a Man?
Gift the best men in your life the best prime steak! Save time and money with our delectable meat gift boxes. You can choose from different options, but we highly recommend:
●     Caveman Box packed a porterhouse steak, Tomahawk steak, Cowboy steak, KC Strip steak, Ribeye, Tenderloin Steak, Guerra's Brand Chorizo, and our signature sausages and seasonings.
●     El Presidente Box packed with Cowboy steaks, T-Bone steaks, Ribeyes, KC Strip steaks, Center Cut filets, a Chorizo de San Manuel package, and our signature sausages and seasonings.
●     BBQ Box #7 packed with Ribeye steaks, KC Strip steaks, Bacon Wrapped Tenderloins, a Chorizo de San Manuel package, and both our signature sausages and seasonings.
Cooking the Best Prime Steaks
Chorizo De San Manuel is dedicated to bringing the best meat cuts to all who crave it! Therefore, it has the best cuts. Order steak online and contact us if you have any shipping questions.
Check Out Meat Boxes and Prime Beef Products
Find your favorite meat boxes, Mexican chorizo, and prime beef products, all available with one click away!