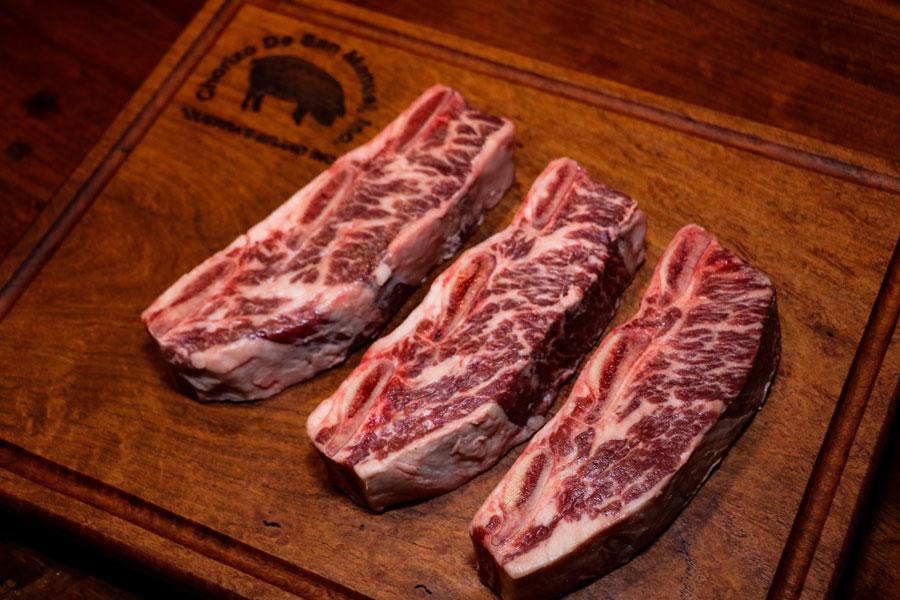 22 Feb

3 Ways to Cook Beef Short Ribs

Whether prepping for the big game, or planning a trip to your favorite hunting spot – you need to plan to eat good. Beef short ribs is a top recommendation from our variety of prime beef products. There are a few ways to cook and prepare this particular cut. You can braise, oven-bake, or slow cook. Read below to learn a few ways to cook them. 
Beef Short Ribs
Beef short ribs have a recognizable caveman cut with their hunks of rich meat on the bone, perfect for any primal meal. Known as a classic winter dish, beef short ribs can be cooked a number of ways to make any meal rich and hearty. This prime beef product comes in three different sizes:
¾ inch cut
1 inch cut
1 ¼ inch cut
Braising Beef Short Ribs
Short ribs are one of the best meals with an incredible amount of taste. One of the best ways to cook and prepare your short ribs is by braising your meat. Some other factor to consider is the cooking method in which you will cook your short ribs, in this example the braising method. The best way to braise your short ribs is by seasoning your meats, then you can prepare your short ribs by: 
Using a dutch oven is a great way to cook braised beef due to the high walls of a pan, and the simmer the beef until the liquid is three-fourths evaporated.
Cooking short ribs in the oven is the most popular method. To then lightly braise, season your ribs, add onions and fresh herbs along with some of the meat's liquids in a pot and cook it low and slow.

 
Stovetop method requires a few hours of patience and a large pan or stovetop dutch oven. Season your ribs the same way, but once your ingredients are boiling, reduce hit, and let it simmer.

 
Oven Baked Short Ribs
There is nothing more enjoyable than cooking your short ribs in the oven after a nice sizzle on the stovetop. 
Preheat the oven
Season the short ribs
Brown the short ribs on the stovetop using a saucepan
Add the short ribs to the oven and finish the cooking process for generally two to four hours, depending on oven temperature.
Slow Cooked Short Ribs
Slow Cooked short ribs are quite simple and flavorful. They may not have a crust like the braising method, but they still can fall off the bone. The results of this cooking method are phenomenal and the more time spent in the slow cooker the more flavorful your short ribs will get. Try:
Pan-frying your short ribs in a saucepan for two minutes.
Adding broth, water, and wine such as chianti to your slow cooker
Add the short ribs, onions, and your choice of herbs and spices.
Let your short ribs cook on your slow cooker using your lowest setting, allowing it to cook for 4-5 hours
Order Prime Beef Products Online
Let Chorizo De San Manuel provide you with only the best prime beef products for your cookout or dinner preparations. Chorizo de San Manuel makes the perfect gift for:
Expert grill masters
Barbeque fanatics
Gourmet meat lovers alike!
Check out more about Chorizo De San Manuel's meat products here and purchase a meat box to try all our prime beef products!