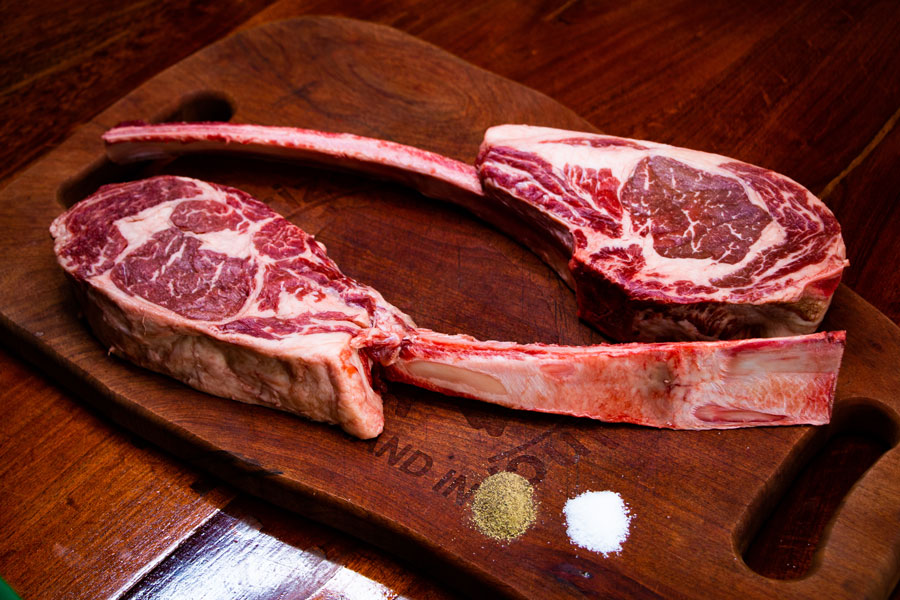 09 Jun

Order Steak Online and Cook a Tomahawk Steak

When cooking the perfect steak, remember a few things when preparing or even buying your steaks. Although it can be relatively simple to cook a Tomahawk steak, having the chance to turn your steak is easy. Here's how you can get the most out of this meat cut.
Cook a Tomahawk Steak
This steak is known for its unique shape due to the bone protruding. Technically, the tomahawk steak is a bone-in ribeye steak sold as a whopping 48 oz juicy cut. This cut can be sold as prime steak or choice.
Preferred Cooking Methods
Some recommended cooking methods for your tomahawk steak will vary depending on the flavors you'd want. Try these cooking methods:
Pan-frying will not dim the flavors of the steak by browning your steak to give it a unique look. Then finish in the oven until your desired temperature.
Smoking is another method to enhance the steak's flavor best; using a grill or smoker, you can control the amount of smoke you want and have your steak absorb the smokey flavors.
You can bring out the flavors of your steak by using the reverse sear, and only by searing it for a few minutes you'll be able to harness all the flavors as you continue to cook your steak and finish in the oven.
Desired Doneness of Your Tomahawk Steak
If your guests prefer how you cook their steak, you need to know the easiest way to cook the tomahawk steak. Try these quick signs for steak doneness:
Well Done should be cooked at about 150 °F and firm with no pink center.
Medium Well steak should be cooked at about 140 °F and firm with a slight resistance to the touch.
Medium steak should be cooked at about 135 °F and should have a firm crust and only a slightly pink interior.
Medium Rare steak should be cooked at about 130 °F and soft to the touch with a slight bounce, a deep-red center but pink in the middle.
A rare steak should be cooked at about 120 °F and very soft to the touch, with a reddish inside color and some juice coming out.
Order Steaks Online & Cook a Tomahawk Steak Today
Chorizo De San Manuel is dedicated to bringing the best meat cuts to all who crave it! Therefore, it has the best cuts. Order steak online and contact us if you have any shipping questions.