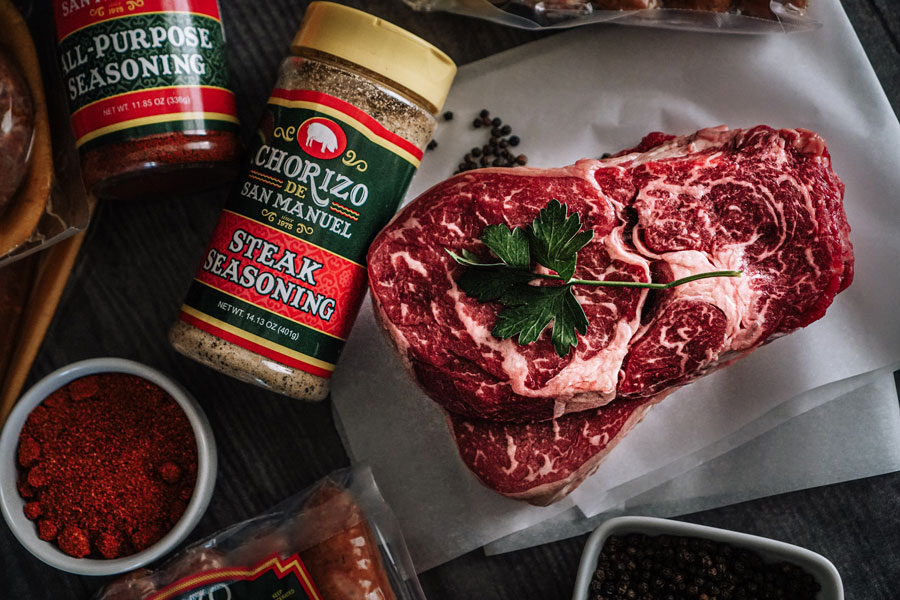 03 Oct 4 Prime Steaks to Try Searing Like a Pro at Home
When it comes to preparing the perfect steak at home, there are a few things you need to know before getting started! For example, you will use different types and cuts of steak. Here are the four different prime steaks to try that vary depending on tenderness and texture:
Porterhouse Steak
Porterhouse cuts are from the rear end of the beef, with a large portion of the tenderloin embedded in the amount.
Sprinkle pepper on both sides..
Add the steaks to the heated pan.
Sear for 3-4 minutes on each side until golden brown, flipping only once.  
Transfer the steaks to the baking sheet and into the oven on a middle rack. 
Cook for 5-20 minutes until a thermometer reaches about five degrees below the final temperature range for your preferred doneness.
Cowboy Bone-In Ribeye
This particular steak has a defined bone in the steak and also has a thick tender part within the cut along with a less tender part:
Salt your steaks generously on both sides.
Let them rest at room temperature for 45 minutes. 
Add your favorite seasonings before you place them in the pan.
On a hot pan, sear your steaks for 3 – 4 minutes. 
Consider using a medium-large skillet to cook the steak evenly.
Ribeye Steak
This cut is filled with flavor and signature marbling, giving off a very tender steak once you cook it. Prepare your ribeye steaks by:
Season your steak and let it rest.
Add oil to your pan, and sear for 3 -4 minutes on each side for a crust.
Turn the heat down to medium, and add butter gals and your choice of herbs.
Spoon the seasoned butter over the steaks for an additional two minutes.
Once done, place them on a cutting board, tent them with aluminum foil to trap the heat, and rest for ten minutes before slicing.
New York Strip Steak
NY Strip steak cut is a lean-cut beef from the short loin area on the lower side of the T-bone and porterhouse. It takes roughly 2-3 minutes to sear each side and is easiest to get on a cast-iron skillet! Remember to drizzle oil on the bottom to help prevent sticking.
Cook Your Steaks To Perfection
To achieve that tender, melt-in-your-mouth taste, you must follow a desired doneness, a recommended temperature level for steaks. Your steak's desired doneness is:
Rare – 120 °F
Medium Rare – 130 °F
Medium – 135 °F
Medium Well – 140 °F
Well done – 150 °F
Find Prime Steaks to Try and Chorizo On Our Website!
If you want to know more about our products, order steak online and try your skills in the kitchen! Check out all kinds of recipes on our Instagram, Tik Tok, and online!