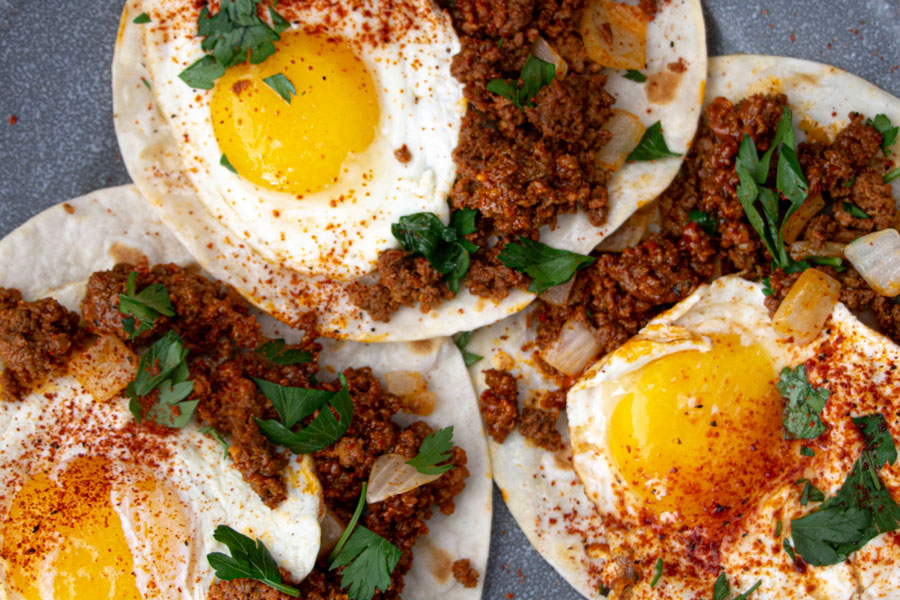 12 Jan

Try This Unforgettable Fried Egg, Tortilla, and Chorizo Combination for Your Next Breakfast Dish!

Recipe courtesy of Chris Morocco of BonAppetit.com.

Chorizo and eggs, a breakfast staple in many households. A scrambled egg and chorizo breakfast are delicious, but if you prefer yours fried or over-easy, then this is the recipe for you. For this dish, we'll be using a recipe from Chris Morocco of BonAppetit.com, and we'll be using our own pork chorizo.   
Preparation Time
5 minutes
Cooking Time
20 minutes
Total Time
25 minutes
Serves
6 tacos
Ingredients
1 pack of our Guerra's Brand pork chorizo

1 small, diced onion

2 tablespoons of vegetable oil

6 large eggs

6 flour or corn tortillas

½ a cup of chopped cilantro
Directions
Heat 1 tablespoon of the vegetable oil over a medium flame.

Cook the chorizo and onion and transfer onto a plate. 

Add the remaining vegetable oil to the skillet and fry the 3 eggs. 

Heat the tortillas and place an egg atop each. Add the chorizo on top with cilantro.

Enjoy!
Try Our Other Recipes!
Be sure to add our chorizo to any of your meals to make it better. Check out our other recipes, to combine chorizo with lunch and dinner, and be sure to snap some photos to share with us on Facebook, Instagram, and Twitter!