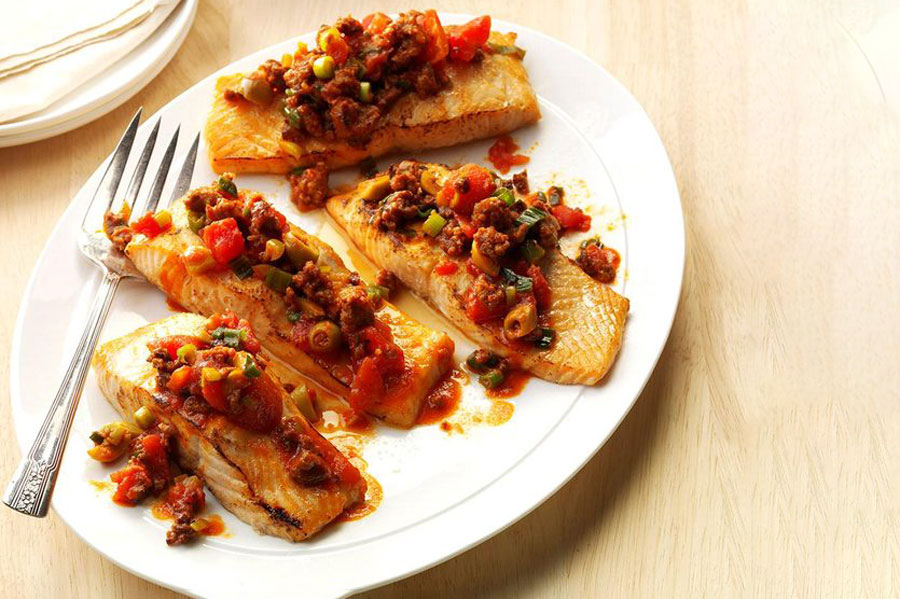 10 May Serve Your Surf: Grilled Salmon with Texas Brand Mexican Chorizo Sauce
Photo and recipe courtesy of TasteofHome.com
Every ingredient within this recipe brings out the best flavors of the dish. The chorizo and salmon meld together to create a unique and unforgettable flavor!  We want to thank the chefs for this recipe from Taste of Home.
*Supplement this recipe with any of our savory Texas brand Mexican chorizo – pork chorizo, beef chorizo, chicken chorizo, San Luis chorizo
Preparation Time
5 mins
Cooking Time
20 mins
Serves
4
Ingredients 
¼ teaspoon salt
¼ teaspoon pepper
2 garlic cloves, minced
4 green onions, chopped
4 salmon fillets (6 ounces each)
1/2 teaspoon grated orange zest
3 links (3-4 ounces) of fresh chorizo
¼ cup chopped pitted green olives
1 can (14 ½ ounces) diced tomatoes, drained
Directions
Remove our Texas brand chorizo from casings. 
In a large ovenproof skillet on a stove or grill, cook and stir-in our Texas brand chorizo, green onions, and garlic over medium-high heat until cooked through.
Cook for 4-6 minutes, breaking chorizo into crumbles and then drain.
Reduce heat to medium. 
Add tomatoes, olives, and orange zest: stir to combine. 
Sprinkle salt and pepper over the salmon. 
On a greased grill rack, grill salmon, covered over medium heat until fish just begins to flake easily with a fork, 3-4 minutes per side. 
Top with chorizo mix.
Check out the full recipe here
Order Chorizo Online – Texas Brand Mexican Chorizo Available!
Order chorizo online! This simple and easy dinner is a perfect solution to whip up something while also trying something new at your disposal! Try this dish for your next dinner and see what makes this dish so extravagant!  Please send us a message, if you have any questions regarding our nation-wide shipping.