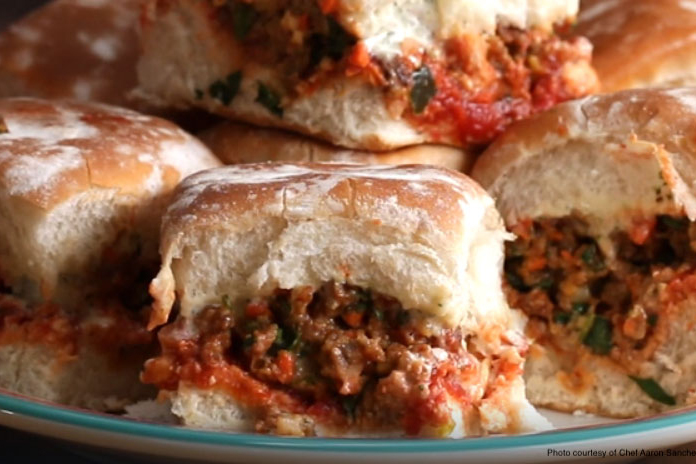 01 Sep

Spicy Chorizo Sliders

Recipe courtesy of Vaughn Vreeland of Tasty.co.

Photo and video courtesy of Chef Aaron Sanchez.

We're excited to share a recipe that's perfect as a party appetizer or for watching a big game! These fiery chorizo sliders are absolutely delicious, and by substituting the original pork or beef chorizo choice with our own, it'll add volumes of flavor! This dish comes to us courtesy of the very talented Vaughn Vreeland of Tasty.co and includes a video demonstration by Chef Aaron Sanchez! We hope you love it!                 
Preparation time:
25 minutes
Cooking time:
50 minutes
Serves:
12 sliders
Ingredients
1½ packages of our

pork

or

beef chorizo

½ cup of Panko breadcrumbs

½ cup of beef or veal stock

¼ cup of roasted and diced poblano peppers

½ cup of minced carrot

½ cup of a chopped white or yellow onion

6 tablespoons of grated cotija cheese

1 large whole egg and 1 large egg yolk

¼ cup of chopped, fresh cilantro

¼ cup of chopped, fresh parsley leaves

1 teaspoon of salt

½ teaspoon of ground black pepper

3 tablespoons of olive oil

6 cloves of chopped garlic

1 28 oz. can of crushed tomatoes

3 chipotle peppers in adobo

12 slider buns split horizontally
Jalapeno Aioli (Optional)
1 cup of mayonnaise

6 tablespoons of green jalapeño sauce

10 mint leaves

1 pinch of salt

1 pinch of pepper
Directions
Preheat your oven to 350°F.

Cook the chorizo for 5 to 7 minutes and drain the excess fat when done. 

In a mixing bowl, add the chorizo, breadcrumbs, the whole egg, the egg yolk, cilantro, parsley, salt, pepper, half of the stock, and most of the cotija cheese.

Mix all ingredients into 12 to 16 golf ball-sized patties and bake them for 20 minutes.

In a large pot, add the chopped onions, garlic, and olive oil and sauté for about 5 minutes over medium heat.

Add the can of crushed tomatoes and remaining stock into the pot.

Continue simmering and add the chipotle peppers in adobo. Simmer for about 5 minutes.

Add the meatballs and cover with a lid and simmer for 30 minutes or until thoroughly cooked. 
For the Jalapeño Aioli Dressing
While the meatballs are simmering, blend the mayonnaise, jalapeño sauce, mint, salt, and peppers together. Mix with a spoon if blending can't be done. 

Cut the buns in half and spread the jalapeño aioli on one side.

Place a patty on each bun and spread the tomato sauce mix on the opposite bun.

Sprinkle the remaining cotija cheese on top of the meatballs, serve, and enjoy! 
If you'll be trying this recipe, then tag us on Facebook, Twitter, or Instagram and let us know how it was! If you enjoyed it, check out our other recipes and feel free to place an order online for one of our many delightful products!