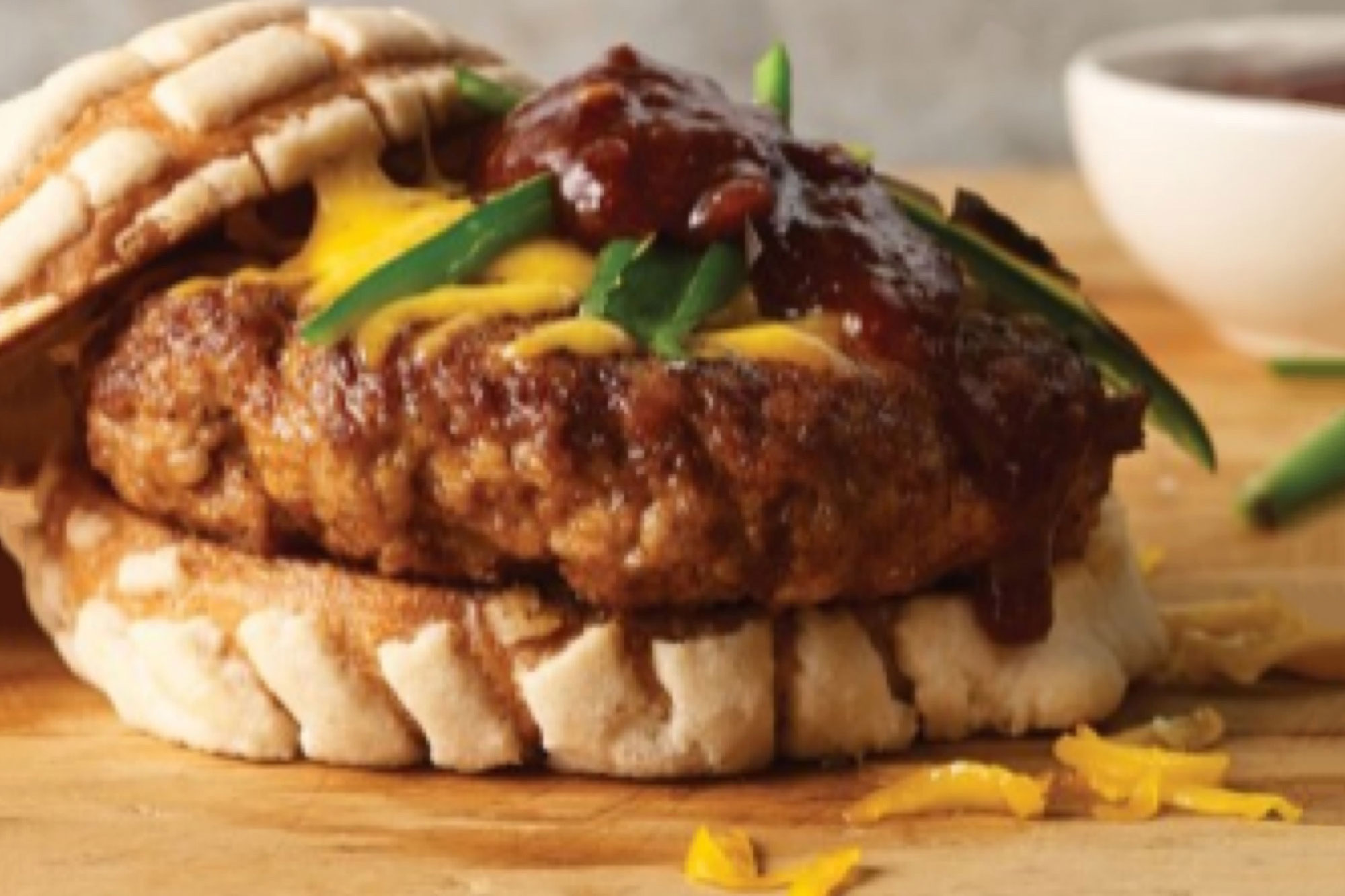 03 Jul Spicy Chorizo Concha Burgers for the Fourth of July!
Recipe and photo courtesy of H-E-B.com.
This Fourth of July weekend add some sugar and spice to your burgers on the grill! This Spicy Chorizo Concha Burger topped with chamoy ketchup recipe comes to us courtesy of the always talented chefs at H-E-B! It's full of flavor, character, and celebratory vibes that are all perfect for a terrific weekend cookout! As always, the only change we've made to this recipe is substituting their chorizo option with our own "Guerra's Brand" Inc. pork chorizo. Check it out and enjoy!
Preparation time: 20 minutes
Cooking time: 20 minutes
Serves: 4
Ingredients
1 lb. of natural ground pork
8 oz. (or 2/3 of a package) of our "Guerra's Brand" Inc. chorizo
1 cup of chamoy
1 minced shallot
1 minced garlic clove
½ cup of apple cider vinegar
1 cup of shredded cheddar cheese
3 serrano peppers, chopped and grilled
2 tbsp. of salted butter
4 conchas (sweet bread), split in half
Directions
In a medium-sized bowl, mix the ground pork and chorizo to form four patties weighing about six ounces each.
For the chamoy ketchup, combine the shallot, garlic clove, and vinegar in a small saucepan. Bring to a simmer over medium heat.
Next, blend the chamoy and vinegar mixture until smooth. If you don't own a blender, whisk it.
Preheat a skillet or grill to medium-to-high heat.
Add the patties and cook for eight to ten minutes on each side. 
Top the patties with cheese when done.
Lightly butter the inner sides of the conchas and grill until lightly browned.
Generously spread the ketchup on the inner side of each bottom half. Lay the patty on top of the ketchup.
Add the serrano peppers on top of the patty and close with the top half of the concha bun.
Enjoy!
Be sure to take a photo and tag us on Facebook and Instagram!
One Last Thing
At Chorizo de San Manuel, we encourage all of our customers to be safe during the Fourth of July weekend. With so much happening in the world right now, please be safe and healthy during your celebration. Avoid large crowds, practice safe distancing, and always wear a mask. Have fun!