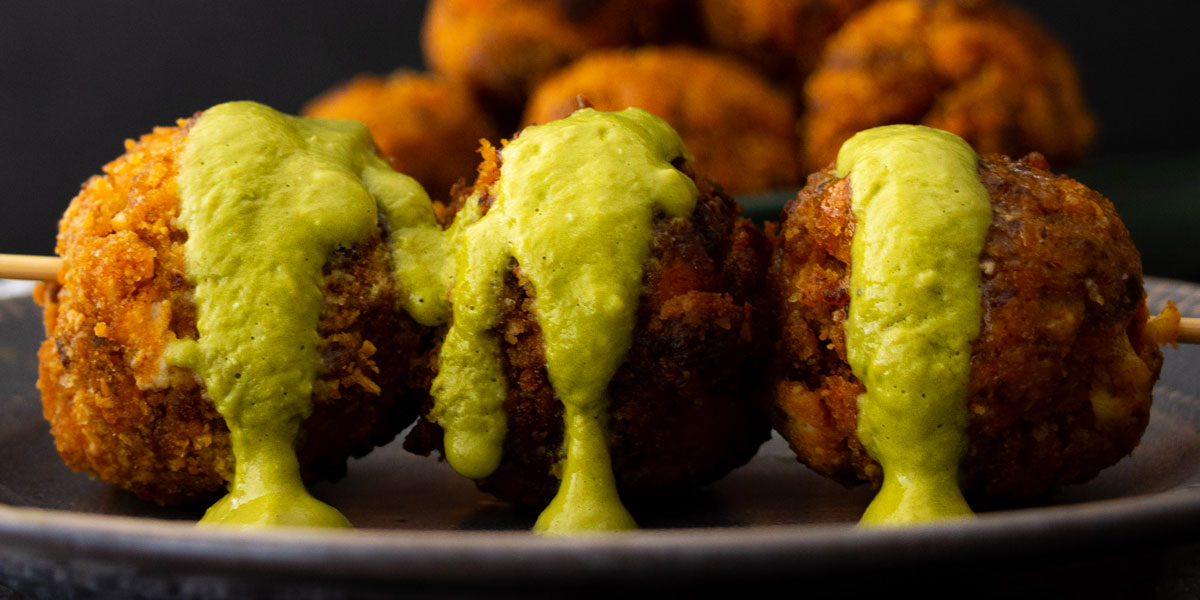 08 Jan

Spicy Chicken & Chorizo Meatballs

Recipe, photo, and video courtesy of H-E-B.

When you add our chorizo to any dish, you're adding both unforgettable spices and incredible flavors! This spicy chicken and chorizo meatball dish comes to us via the talented chefs at H-E-B. If you'd like a visual presentation on how to put these ingredients together, then check out the video below!

Preparation time: 10 minutes

Cooking time: 15 minutes

Total time: 25 minutes

Serves: 15 people

Ingredients:
1 cup of peanut oil
1 package of 12 oz. Chorizo de San Manuel Guerra's Brand chorizo
2 large brown eggs
1 lb. of ground chicken breast
2 tsp. of kosher salt
1 tsp. of black pepper
½ tsp. of H-E-B California Garlic Powder
½ cup of H-E-B Panko breadcrumbs
Directions:
Preheat your oven to 350°F.
Add the peanut oil to a large, flat sauté pan and set the stove to medium heat.
In a large bowl, combine the eggs, chicken, chorizo, salt, pepper, and garlic powder.
While stirring, add the breadcrumbs.
Using your hands, grab a bit of the mixture and form the meatballs.
Raise the temperature on the stove to high and place the meatballs SLOWLY into the pan.
Fry the meatballs for two to three minutes or until they turn light brown.
Place the meatballs onto a foil-lined baking sheet and into the oven for 10 minutes or until they reach an internal temperature of 165°F.
Remove serve on bamboo skewers.
If you try this recipe at home, take a photo and tag us on our social media accounts below!
Enjoy!