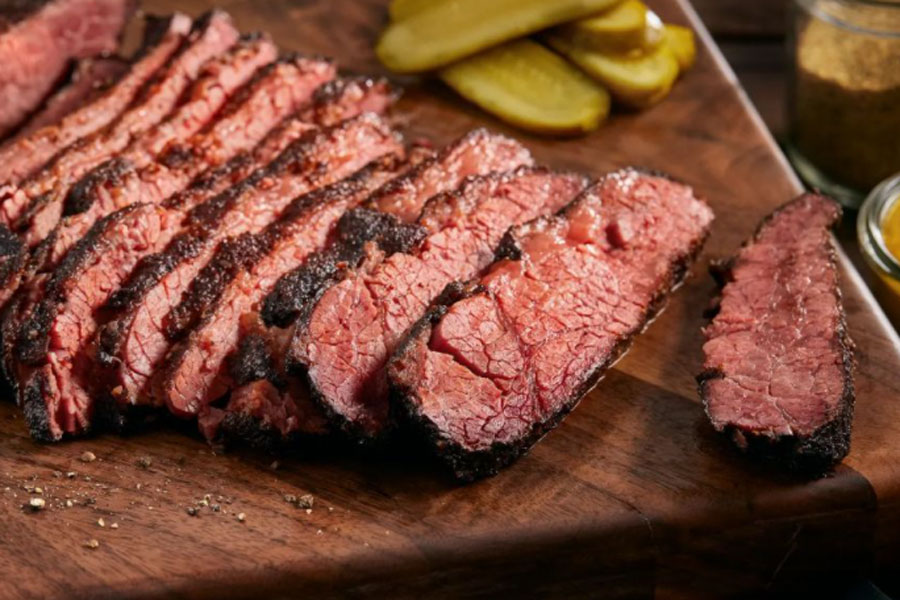 09 Mar Enjoy the Flavors of Smoked Corned Prime Beef for St. Patty's Day!
Recipe and picture courtesy of Oklahoma Joe's Smokers.
Celebrate St. Patty's Day by cooking up a traditional Irish Prime Beef dish for your friends and family! For this recipe, you will be using our Creekstone Prime Brisket. We would like to thank the Oklahoma Joe's Smokers chefs for this delicious recipe.
Total Time
8 Hours, 20 Minutes
Yields
4 to 6 Servings
Ingredients
1 cup of water
1 cup of beef stock
1 teaspoon of onion powder
2 tablespoons of garlic powder
½ teaspoon of ground mustard seeds
3 tablespoons of ground black pepper
½ teaspoon of ground coriander seeds
1 Creekstone prime brisket, 3 to 5 pounds
A handful of oak, pecan, or hickory wood chunks
Directions
Preheat your smoker to 250°F.
Remove corned beef from the brine*. Rinse thoroughly under cold water and pat dry with paper towels.
Combine black pepper, garlic powder, onion powder, coriander seeds, and mustard seeds in a small bowl.
Season the beef brisket on both sides with the rub mixture.
Place the brisket in your smoker and toss a few wood chunks onto hot coals for smoking.
Cook the brisket until the internal temperature reaches 165°F on an instant-read thermometer or for 3 to 4 hours.
Remove from smoker and transfer to a large aluminum foil pan.
Pour water and beef stock into the bottom of the pan.
Cover the pan with aluminum foil and place it back into the smoker.
Cook until the internal temperature of the meat reaches 200°F on an instant-read thermometer, about 3 to 4 more hours.
Remove your smoked corned beef from the smoker.
Let it rest in the covered aluminum foil pan for 30 to 45 minutes before slicing.
*Brining is the process of submerging a cut of meat into a solution of salt and water for added flavor. This is an entirely optional step. You will feel like a Pro BBQ Grill Master no matter how you cook your Chorizo de San Manuel Creekstone Prime Brisket.
Enjoy Our Prime Beef Products
Buy steaks online and shop our prime beef products today! Send us a message if you have any questions about our nationwide shipping!