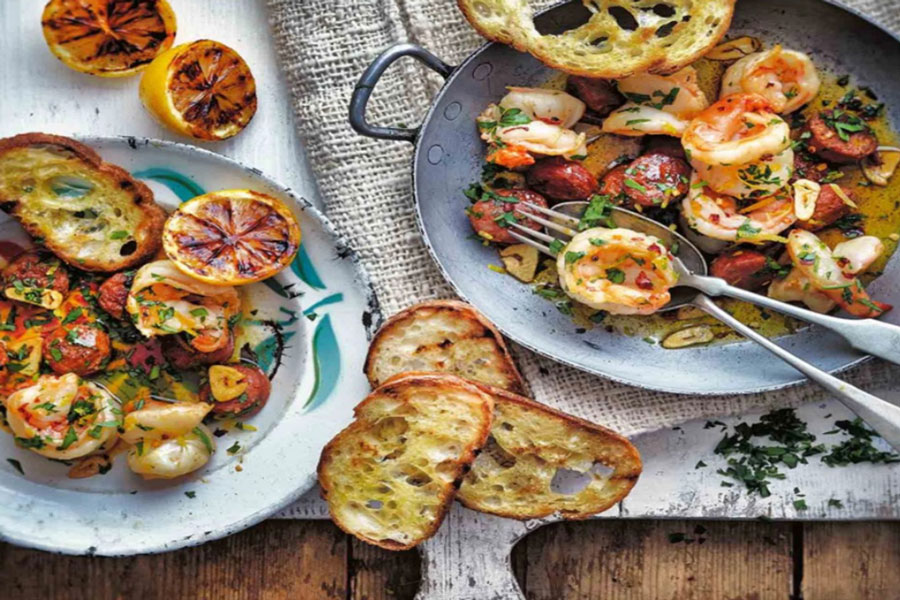 07 Jan Try This Mouthwatering Shrimp with Chorizo!
Recipe and picture courtesy of Leite's Culinaria.
Refresh yourself with our mouthwatering shrimp and chorizo recipe! For this recipe, you will be using our delicious pork chorizo. We want to thank the talented chefs of Leite's Culinaria for this recipe.
Preparation
30 Minutes
Yields
3 to 4 servings
Ingredients
2 garlic cloves, thinly sliced
1 teaspoon of chili pepper flakes
1 tablespoon of extra-virgin olive oil
Juice and finely grated zest of 1 lemon
13 ounces of large raw shrimp, butterflied
Crusty bread and chargrilled lemon halves to serve
2 tablespoons of finely chopped fresh flat-leaf Italian parsley
5 ½ ounces of raw chorizo sausages, cut into ⅜ inch (1 cm) slices
Directions
Heat a large skillet over medium heat.
Add chorizo and cook until it is crisp and oil is released, or about 4 to 7 minutes.

Note: If the chorizo does not release much oil after frying, you can add a few tablespoons of olive oil to produce a nice amount of sauce to allow for dipping with the final dish.

Use a slotted spoon to move the chorizo to a bowl.
Add the olive oil to the skillet and reduce the heat to a medium-low.
Cook the garlic until it begins to color or about 1 minute.
Increase the heat to high and stir the shrimp and chile flakes. Toss for 1 minute.
Add the lemon juice and chorizo and toss until the shrimp are opaque or for an additional 1 to 3 minutes.
Sprinkle the zest and parsley over the shrimp and serve immediately with crusty bread and chargrilled lemon halves for squeezing.
Order Chorizo Online
Enjoy our best steaks, fajitas, beef, sausage, and more in 2022! Buy our amazing meats online now! Reach out to us online if you want to learn more about our nationwide shipping!
Reach Out To Us Today!
Be sure to check all of our online recipes featuring the best chorizo! Show us all the chorizo recipes online on Instagram and Facebook.