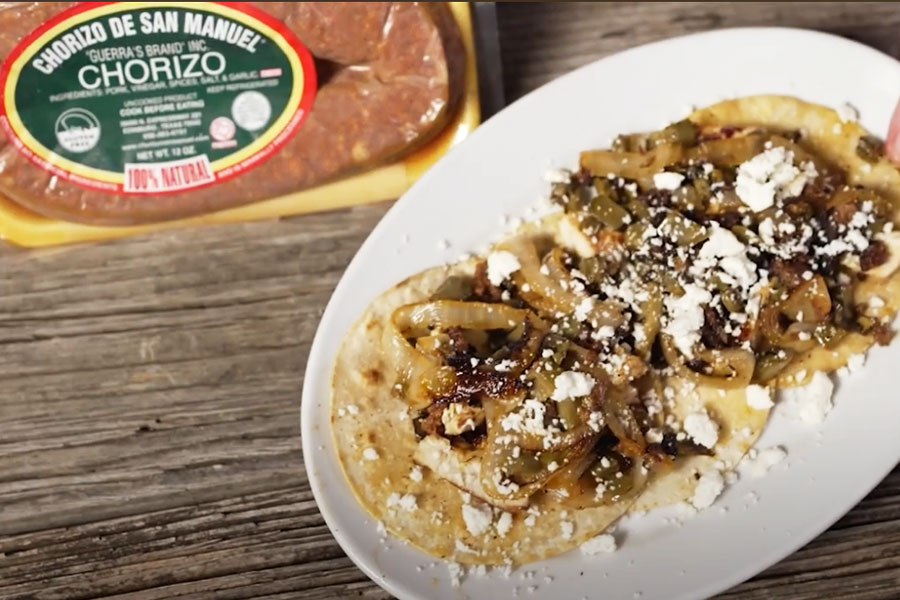 13 Jan Try 15 Minute Mexican Chorizo Tacos with a Twist!
Who doesn't love to eat tacos at lunch or dinner time? If you are a fan of taco recipes, then you'll enjoy this taco recipe! Adding chorizo and nopales is a total game-changer for this taco recipe! Go on and try these Mexican chorizo tacos on your next lunch or dinner! 
Preparation Time
10 mins
Cooking Time
15 mins
Serves
4
Ingredients 
Oil
Salt
Nopales 
Queso fresco
Chicken Breast
Onions sliced into rings
Tortillas, of your choosing 
Chorizo, any flavor of your choosing
Directions
Heat up a pan or skillet on medium-high heat.
Add oil to the pan and add your onions.
Cut your chicken into chunks then add them to your pan with onions.
Season your chicken and toss the onions and chicken around until the pink color begins to fade.
Heat up your tortillas.
Once the chicken begins to look cooked take off the pan and slice them up to your liking, if you prefer them as they are then add them to your tortillas.
Cook your Mexican chorizo on a separate pan or skillet then add your nopales.
Once your chorizo has changed its color, add them on top of your chicken and tortillas.
Top up your tacos with some queso fresco and enjoy!
Order Chorizo and Steaks Online
Not only are we the best at what we do when it comes to our signature Mexican chorizo, but we also sell a variety of products that include:
Prime steaks and beef products
Pre-marinated Fajita 
Sausages 
Choose from a grand selection of our chorizo flavors! Looking for a great flavor in chorizo to go with your everyday recipes? Our signature chorizo flavors include:
Savory beef chorizo
Unforgettable pork chorizo
Lean and juicy chicken chorizo
Concentrated San Luis chorizo
Enjoy these Mexican Chorizo Tacos!
Check out more recipes on the Chorizo De San Manuel page here! Show us some of your culinary favorites on our Instagram and Facebook!