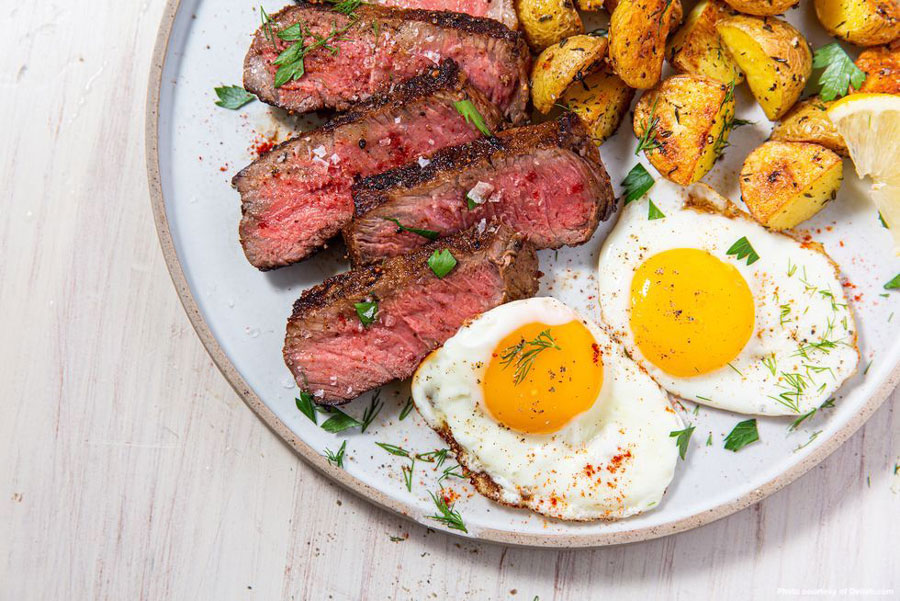 20 Aug Add Our Prime Steak NY Strip to Your Next Steak and Eggs Breakfast!
Recipe and photo courtesy of Delish.com.
If you're looking for a breakfast fit for royalty or want to start the day with a protein-packed meal, then we have a recipe for you! It includes a hearty steak and delicious eggs, two very important and delicious portions that are sure to get you through the day! This dish comes to us from the culinary artists at Delish.com, and it is heavenly! For the prime steak portion, we will use one of our juicy 16-ounce prime New York strip steaks.
Preparation Time
30 minutes
Cooking Time
30 minutes
Yields
2 servings
Ingredients
Our 16-ounce one-inch-thick prime NY strip
2 teaspoons of vegetable oil, divided
1 teaspoon of kosher salt
1 teaspoon of freshly ground black pepper
¾ of a teaspoon of smoked paprika
2 tablespoons of butter
4 eggs
Parsley for serving (optional)
Directions
Let the steak sit at room temperature for 30 minutes.
Rub it down with one tablespoon of vegetable oil and season both sides with salt, pepper, and paprika.
Using a medium-sized cast-iron skillet over high heat, add the steak.
Cook each side for 2 minutes or until a golden crust forms.
Reduce the heat to low and add butter.
Baste the butter onto the steak to form a deeper golden crust. Flip it and repeat for 2 to 3 minutes.
When done, let the steak rest on a cutting board for 10 minutes.
Heat the remaining oil in a nonstick pan over medium heat.
Cook the eggs to your liking. Season with salt and pepper.
Slice the steak into strips, cutting against the grain.
Serve the steak with eggs, garnish with parsley, and enjoy!
Order Prime Steak Online
Be sure to try our prime steak recipes featuring our prime beef products and authentic Mexican chorizo. Contact us today to place a curbside order or order steaks online!