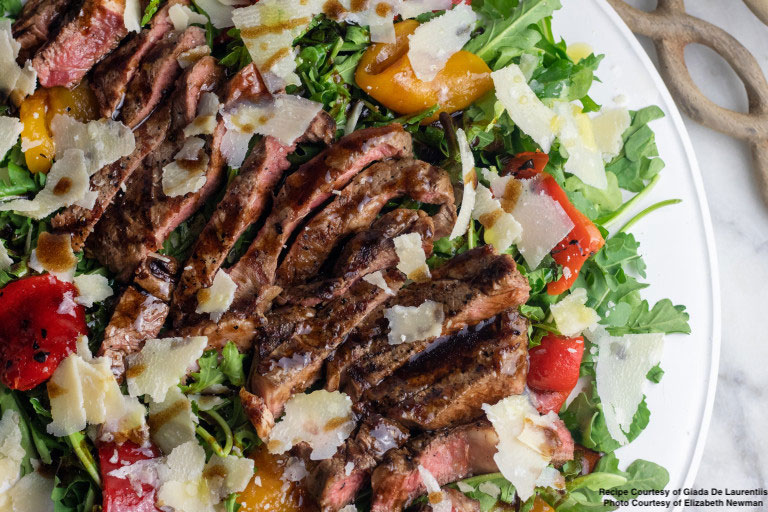 27 May

Try This Prime Ribeye Steak Salad with Balsamic Vinaigrette!

Photo courtesy of Elizabeth Newman.

As great as our juicy ribeye steaks are, we love them even more when paired with something that brings out the rich flavors of the meat. Today's recipe is courtesy of Giadzy.com, home of world-renowned chef Giada De Laurentiis and it is amazing! For the steak, we'll be using our prime ribeye, a high-quality cut that's part of our exceptional collection of prime beef products! Check it out!      
Preparation Time
20 minutes
Cooking Time
10 minutes
Yields
4 servings
Ingredients
6 tablespoons of extra-virgin olive oil for the main dish and another two tablespoons for brushing

 

2 of our 16 oz. 1-inch-thick ribeye steaks

 

Kosher salt and freshly ground black pepper

 

3 cups of arugula, washed and spun dry

 

1½ roasted peppers, rinsed and patted dry

 

2 tablespoons of balsamic vinegar

 

1 8 oz. small block of parmesan cheese

 
Directions
In a large sauté pan, heat two tablespoons of the olive oil and season with salt and pepper.

 

When the pan starts to smoke, carefully add the ribeye steaks and cook on each side for 3 to 4 minutes.

 

When done, move the steaks to a large plate to rest for 10 minutes.

 

Decoratively line a large platter with arugula and tear the roasted peppers into large pieces and scatter over the arugula.

 

Whisk in the remaining olive oil, balsamic vinegar, and any meat juices that may have collected on the plate. Season with salt and pepper.

 

Slice the steaks across the grain into 1½-inch pieces and lay the slices on top of the salad.

 

Using a vegetable peeler, shave the parmesan cheese over the salad.

 

Enjoy!

 
Try this dish and be sure to also try our famous, authentic Mexican chorizo – made and packaged right here in South Texas. Don't bother to buy steaks at a grocery store. Order our steaks online and we'll ship them with our nationwide shipping! Contact us to place your order today!