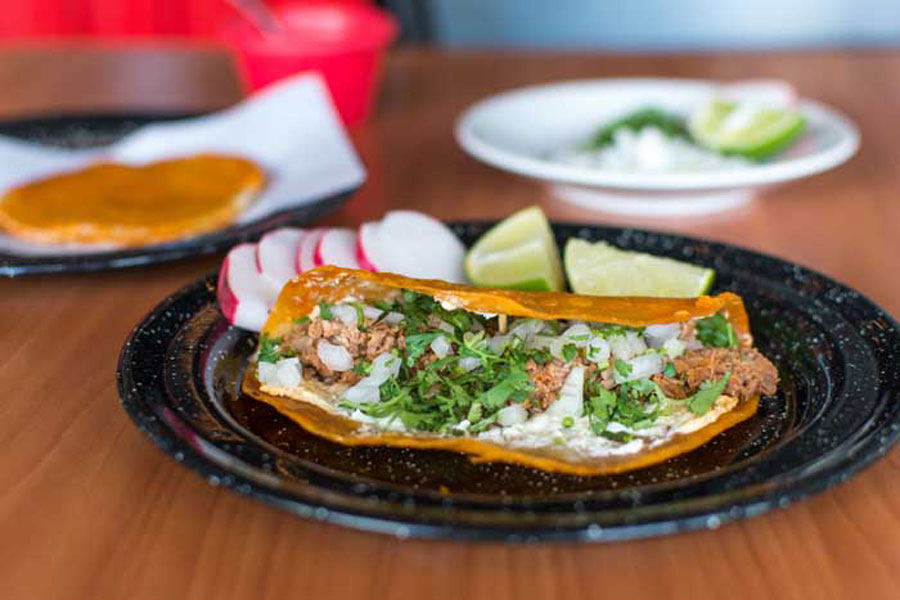 23 Mar Treat Yourself to Prime Beef Brisket Tacos for Dinner
Recipe and picture courtesy of The Online Grill.
Taco Tuesday can be enjoyed any day when you use the right prime beef products. Sink your teeth into juicy a juicy brisket taco the whole family will enjoy with our Creekstone prime brisket. Order our steaks online and try this method from the brilliant chefs from The Online Grill.
Total Time
8 Hours 10 Minutes
Yields
6 Servings
Ingredients
Salsa
Cilantro
White onion
1 tbsp of cumin
12 small flour tortillas
2 tsp of ground coriander
1 tbsp of smoked paprika
2 tbsp of coarse kosher salt
2 tbsp of coarse black pepper
1 Creekstone prime Brisket flat fat trimmed to ¼ inch
Ingredients for Marinade
2 cups water
1 tsp beef base
1 tbsp soy sauce
1 tbsp Worcestershire sauce
Directions
Fire up the smoker to 225°F (107°C). While it preheats, prepare brisket marinade.
Heat up a small saucepan over medium heat. Combine all injection marinade ingredients until fully dissolved.
Place the brisket in a shallow baking tray.
Load meat injector with marinade. Insert injector perpendicular to the meat grain direction. Inject in a grid pattern across the meat, with an inch between each hole. Save half of the marinade to use later.
Mix all rub ingredients (salt, pepper, paprika, cumin, coriander) in a small bowl.
Apply liberally to meat, covering all sides in an even coat.
Place the brisket in the smoker, fat-side down on the grates—smoke for six hours.
Remove the brisket from the smoker and place it on a sheet of aluminum foil.
Drizzle the remainder of the injection marinade over the meat.
Wrap brisket tightly in foil, eliminating any pockets of air. Double wrap for good measure.
Increase cooking temperature to 275°F-300°F (135°C-149°C). Place wrapped brisket back on smoker grates. Smoke for 1-2 more hours.
Check on brisket. Insert a meat probe into the beef. Look for little resistance and an internal temperature of 210°F (99°C).
Remove from smoker. Leave loosely wrapped and rest for 20-30 minutes.
Slice the brisket perpendicular to muscle fiber direction into thin strips. Slice each strip into small chunks.
Transfer strips back to foil and allow to soak up remaining juices and marinade.
Serve in preheated tacos with your choice of filling or garnish with cilantro, white onion, and salsa.
Order Prime Beef Online!
Send us a message online if you have any questions about our prime beef products or how to order steaks online.